Estimated read time: 2-3 minutes
This archived news story is available only for your personal, non-commercial use. Information in the story may be outdated or superseded by additional information. Reading or replaying the story in its archived form does not constitute a republication of the story.
Keith McCord ReportingThree Utah soldiers who are currently deployed in Iraq are going to be part of the "Stadium of Fire" celebration in Provo tomorrow. Through a satellite link they'll speak to the crowd at Lavell Edwards stadium.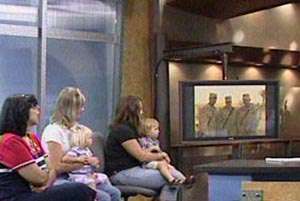 The army arranged for us to speak with the soldiers today and we invited their wives to the studio to see for the first time in months. The wives were giddy when the live shot from Fallujah, Iraq first popped up on the screen.
"Oh there they are... The tall one is mine.. There's daddy!"
"What is that thing growing on his face!"
This is the first time that Jaci and Amanda have seen their husbands in several months. That's David Moreno on the left; Bart Johnson in the center, and Larry Kittell. Members of the 115th maintenance Company of the Utah National Guard. They left Utah in January.
SSG Bart Johnson, Utah National Guard: "This company is mostly mechanics so we repair a lot of equipment, overhaul equipment."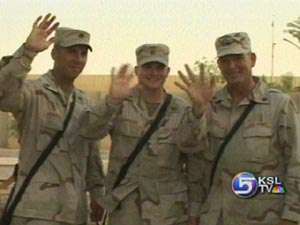 Sgt. Larry Kittell, Utah National Guard: "If there's a broken truck within 200 miles we fix it."
These men are stationed in southern Iraq; the army flew them about 200 miles to Fallujah to speak with us. They didn't know that they would have an opportunity to speak with their wives-- we wanted to surprise them!
Amanda Kittell: "After three months of not seeing you, you look a little slimmer."
Sgt. Larry Kittell: "Thank you, you look pretty slim yourself!"
The women's eyes were riveted on their husbands for the entire interview, understandable since it'll be nearly a year before the guys come home. For a few moments, they were able to catch up on family, food, finances.
Heidi Johnson: "I'm spending all your money honey."
SSG Bart Johnson: "I understand."
The soldiers said they were in a safe area in Iraq and that the Iraqi people have been very supportive of them, comforting for these women.
Jaci Moreno: "I want you to know that I'm proud to be your wife. I couldn't be more proud of a human being right now."
Amanda Kittell: "Be safe and take care of yourself and I'll see you tomorrow."
Heidi Johnson: "Can't wait to see you again."
The soldiers could only hear their wives today, but the army will have a two-way satellite link set up for the "Stadium of Fire" show. The wives will be there so they'll be able to see each other.
×
Most recent Utah stories