Estimated read time: 4-5 minutes
This archived news story is available only for your personal, non-commercial use. Information in the story may be outdated or superseded by additional information. Reading or replaying the story in its archived form does not constitute a republication of the story.
(KSL Sports) Saturday, David Zabriskie, who grew up in Utah, won the first stage of the Tour de France. He had a two second lead over six-time defending champ Lance Armstrong.
Sunday's was a 112 mile journey. Lance Armstrong finished 63rd, but remained two seconds behind the leader. In the final half mile, Belgium's Tom Boonen pulled ahead to win stage two, in three hours 51 minutes and 31 seconds.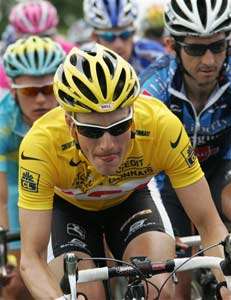 However, Utahn David Zabriskie holds onto the yellow jersey as the overall leader going into Monday. Officially he finished 71st, and he's two seconds in front of Armstrong.
Monday's third stage is a 139-mile sprint.
From The Associated Press:
LA CHATAIGNERAIE, France (AP) -- Lance Armstrong's team is concerned that its great start has been too good too early in the Tour de France.
George Hincapie, a vital cog in all of Armstrong's Tour wins, thinks the race won't stay as easy as it was the first two days.
"The race is three weeks long, there's a long way to go," Hincapie said Sunday. "We're not that confident."
Armstrong began the third stage of his farewell race Monday, setting out on a long, flat route with the Texan looking to stay out of trouble.
The 133-mile trek from La Chataigneraie to Tours generally favors sprinters, meaning Armstrong will try to stay in the main pack and away from potential crashes as riders near the front jostle for position.
That strategy worked during the second stage when Armstrong saw 10 riders fall during the 113-mile trek from Challans to Les Essarts. The six-time defending champion finished 63rd, safely in the main pack to stay second overall.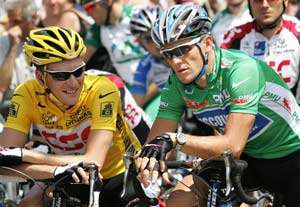 He led Jan Ullrich of Germany and Ivan Basso of Italy by more than a minute, with Kazakhstan rider Alexandre Vinokourov 51 seconds behind.
Hincapie thinks Ullrich's T-Mobile team, which included Vinokourov and Andreas Kloeden, last year's runner-up, was poised for a rebound.
"They're fighters and they'll keep on fighting," he said. "There's no rest until Paris."
Ullrich's hopes for a second Tour victory were dealt a severe blow on Friday when he crashed into the back of his team car during a training run, cutting his neck close to the jugular vein.
He looked demoralized during Saturday's time trial -- conceding 66 seconds to Armstrong -- but appeared determined again Sunday while placing 19th just behind the front-runners in a dangerous sprint stage won by Belgian Tom Boonen.
Boonen won in 3 hours, 51 minutes, 31 seconds, edging Norway's Thor Hushovd and Australian Robbie McEwen in a dash to the line.
Armstrong didn't think Ullrich's accident would keep the 1997 Tour winner down for long.
"I don't put a lot of stock into what happened," Armstrong said. "I crashed 10 days ago, and it took me four or five days to recover. He'll be better in a few days' time. The race goes to Germany, so he has to get better."
With a team time trial Tuesday and the torturous Alps and Pyrenees looming, Armstrong's rivals still have time to catch up.
Utah resident David Zabriskie of Team CSC wore the overall race leader's yellow jersey Monday.
Armstrong is 2 seconds back in second place, but will likely wait until Tuesday's time trial before attempting to overtake his former U.S. Postal Service teammate.
Zabriskie is coached by 1996 Tour winner Bjarne Riis, who has told him he needs to make some more sacrifices if he wants to win the Tour one day.
"Bjarne told me I need to lose more weight," Zabriskie said. "But when I look in the mirror, I think I'm already really skinny and I can't see how I can lose any more. I have to be careful otherwise I'll start losing muscle."
While Armstrong's Discovery Channel teammates protected him from any harm, French rider Samuel Dumoulin fell with less than 1.9 miles remaining. Caught in the middle of a group of riders, Dumoulin lost control of his bike and received a deep gash to his left knee but is expected to continue.
According to Tour race rules, if a rider falls with under 1.9 miles remaining, those in the main pack are awarded the same time as the race winner. In Armstrong's case, this meant he was accorded the same time as Boonen.
(Copyright 2005 by The Associated Press. All Rights Reserved.)
×
Most recent Utah stories