Estimated read time: 2-3 minutes
This archived news story is available only for your personal, non-commercial use. Information in the story may be outdated or superseded by additional information. Reading or replaying the story in its archived form does not constitute a republication of the story.
Warning: This story contains graphic images of the burn victimRichard Piatt Reporting
Utah doctors believe a boy with burns over 42 percent of his body has a good chance of a full recovery. Nine-year old Matthew Luke Price fell into a hot pool at Yellowstone Park Sunday. His father pulled him from the hot water as soon as he could, so young Luke's injuries could have been much worse. Tonight it looks like Luke will eventually be all right, but it's going to be long and painful.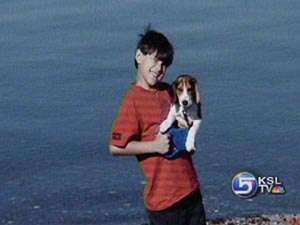 A young boy with second degree burns over almost half his body, this picture taken when his father says Luke Price looked his worst. Today, with Luke's swelling down and emotions calmer, Preston Price has the strength to think back to Sunday.
Preston Price, Father: "In moments, just like that, your life is changed. The whole family's life is changed. And I would give everything I have, and make payments, if I could undo it. "
Moments earlier Price snapped photos at Yellowstone Lake. Luke was playing with his puppy 'Milkshake' at the water's edge. There are no photos of the hot pool Luke fell into, but there are a lot of them near the lake.
Preston Price: "Even when he fell in, my first reaction was to pull him out. But I never expected to see all of his skin roll off with it."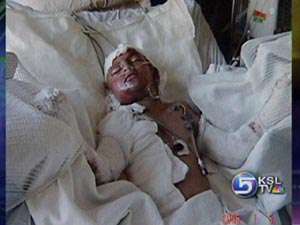 There was a tense trip to a first aid station, then an emergency trip via medical helicopter from Wyoming to Idaho Falls and then Salt Lake City---a whirlwind detour the family hadn't planned on.
For a family from Kentucky, which is where the Prices are from, the unmarked hazards of vast Yellowstone Park are troubling. Price recalls the case of three Utah teenagers who also suffered severe burns at another hot pool five years ago. He wonders if more warnings are needed, if there's some way to prevent others from stumbling into danger.
Preston Price: "They have accidents every year. I may even try to make a campaign out of it."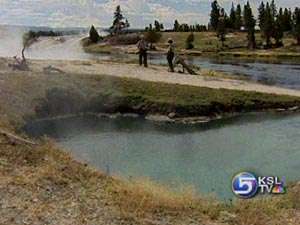 It will be a long recovery for Luke, but some good news is Shriner's hospital in Cincinnati has offered to fly Luke by Lear jet to their hospital, where he can be further on his way to a full recovery.
×
Most recent Utah stories