Estimated read time: 2-3 minutes
This archived news story is available only for your personal, non-commercial use. Information in the story may be outdated or superseded by additional information. Reading or replaying the story in its archived form does not constitute a republication of the story.
Alex Cabrero ReportingDuring the summer months many of us leave our garage doors open, but doing so can make us very inviting to criminals.
Old-timers will say this is just the way we live during the summer months -- garage door wide open because it keeps it cool. These days, though, police are telling us it's probably better to keep it down, not because they're in with air conditioning companies, but because they don't want us to become victims.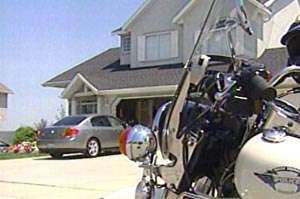 "It is a nice neighborhood. It's quiet, it's peaceful. Great neighbors."
People work hard to afford this lifestyle. Others just take it.
"It was a Thursday morning. No different than any other day. I just got up to go to work and realized I was missing my things out of my vehicle."
This family doesn't want to be identified, not because they're ashamed of where they live, it's just they're ashamed of the trust they had in others.
"We could kick ourselves now because we heard that was a problem, and not to be easy prey. But we allowed ourselves to be easy prey."
Sometime last week someone drove into the South Jordan neighborhood, ignored the community watch sign, and helped themselves into the family's car, which was parked inside an open garage.
"They went just for the credit cards and the day planner and the cell phone."
Within hours, his credit cards were used at the Sears Grand in Jordan Landing, and a Home Depot and gas station in West Valley. Two thousand dollars gone, almost as fast as it takes to close a garage door.
Capt. Gary Cox, West Valley Police Dept.: "Unfortunately, we just can't all live with our doors unlocked all the time and think everything is gonna be safe."
It is too bad that there are those who would rather take something than work for it.
"It's taken us hours and hours to shut down bank accounts and cell phone accounts and social security administration and drivers license. It's taken us hours and hours to undo the damage they've done."
Police are trying to figure out who's doing this, but even if they're not caught, the family we spoke with says they will never be easy victims again. It's a hard lesson learned.
×
Most recent Utah stories