Estimated read time: 2-3 minutes
This archived news story is available only for your personal, non-commercial use. Information in the story may be outdated or superseded by additional information. Reading or replaying the story in its archived form does not constitute a republication of the story.
Alex Cabrero and Samantha Hayes ReportingA three-alarm fire Thursday night at a West Valley City business caused a lot of damage and forced the evacuation of an apartment complex.
It started around 7:00 pm. Investigators are still trying to figure out exactly what happened. The flames were intense and smoke billowed about 100 feet into the air. By the time crews arrived on the scene there wasn't much they could do to save the equipment.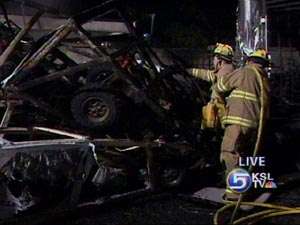 Eighty four-wheelers and snowmobiles, and a handful of RVs are completely lost. It's estimated at about a half-million dollars. Most of that equipment just arrived at the location this week, now it's all gone.
Dave Lloret, Business Owner: "I don't, only time will tell. I'm tired. I'm thinking about giving up, to be honest with you. If it isn't one thing, it's another. We've had issues in the past. We've had thefts and stuff like that, you know. So, it's pretty devastating."
Witnesses say they saw people playing with fireworks about the time the fire started. That is something investigators are looking at.
The fire burned right by an apartment complex. Because the fire was so close to the apartment, firefighters were concerned and evacuated the complex for a time. A van parked at the apartment complex was close enough to the fire that it caught fire too and is completely burned out.
The fire looked bad and sounded bad. Residents described it as having loud popping sounds, like gunshots.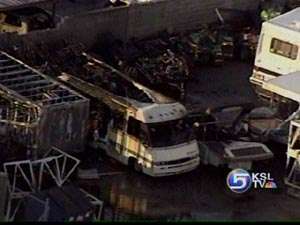 Denielle Blatnick, Resident: "It was really really hot. And then the boxes, they had white covering over them, and they started melting. And then you could see the 4-wheelers inside, and then it started popping, it was a loud gunshot kind of sound. And then that van that was over there, caught on fire and burned all the inside and melted all the windows and stuff.
It was also a dangerous day for firefighters. It's been one of the hottest days of the year, and with all the gear firefighters wear, about 30 pounds, they need to be very careful to stay well-hydrated.
×
Most recent Utah stories