Estimated read time: 2-3 minutes
This archived news story is available only for your personal, non-commercial use. Information in the story may be outdated or superseded by additional information. Reading or replaying the story in its archived form does not constitute a republication of the story.
Jed Boal ReportingBritons in Utah awoke to the sad news, and worried about the safety of loved ones. One day after rejoicing to the news of the 2012 Olympics they felt a punch in the stomach. Utahns tonight show support and remember the victims in their prayers.
At Colonial Flag in Sandy is a colorful show of solidarity. Nine Union Jacks flying at half staff, a statement with a powerful symbol. The Union Jack flew over the US State Department for the first time ever. And nine of the British banners blew in the wind above Sandy at half-staff. Colonial flag employees raised the flags and callers from I-15 cheered.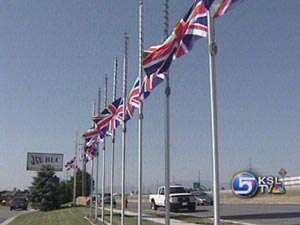 Paul Swenson, Colonial Flag: "Whenever the terrorists attack outside the country our British friends our Australian friends, we're going to show our support for them."
London-native Loraine White manages London Market, a Salt Lake shop that sells a taste of home for Britons abroad and anglophiles. A call from a friend woke her up, chaotic images on TV took her back to another era when the IRA terrorized Britain.
Loraine White, Shop Manager: "I've been on the underground when there have been bomb scares and people have been evacuated."
Her son was in that area each of the last two days, but not when the bombs exploded. White says Londoners always carried on and tried not to think about it every day.
Loraine White: "There's a resilience among the people, although they're subdued, there's a resilience, they will just keep going."
Other Britons expect greater vigilance towards potential terrorist targets, but know their countrymen will rebound.
At the Cathedral of the Madeleine, Father Joseph Mayo urged worshipers to always be aware of the impact of terrorism.
Father Joseph Mayo, Cathedral of the Madeleine: "To especially pray for the victims of the disaster and the continuing fight against terrorism in our world."
The events today renewed a lot of the dialogue about safety that we had after the attacks of 9-11.
×
Most recent Utah stories