Estimated read time: 2-3 minutes
This archived news story is available only for your personal, non-commercial use. Information in the story may be outdated or superseded by additional information. Reading or replaying the story in its archived form does not constitute a republication of the story.
John Daley ReportingA man drowned today in Jordanelle Reservoir. Witnesses say it happened as the man and a friend were swimming to shore from their boat.
For Rulon Waite, a great day on the water turned terrible in a hurry.
Rulon Waite, Witness: "I was telling my buddy before all this happened, it was a beautiful day, really what a nice day it was."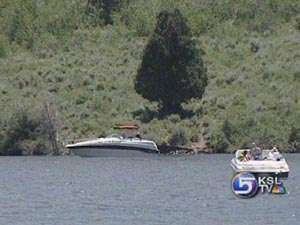 But about 11:30, in the frigid 67 degree water, things turned in a flash.
On the south side of the lake's east arm a man and his friend decided to swim to shore from their fishing boat. Perhaps 15 feet from shore the man began to struggle.
Rulon Waite, Witness: "They got almost to shore and one of them had a problem. Just started drowning. So I brought up my anchor and brought my boat in gear and as fast as I could went over there. My buddy jumped in after him and I dialed 9-1-1 and tried to get people coming."
Tracy See, Asst. Park Manager: "He was offered a life jacket and refused it. The other gentleman had a life jacket on. When he started to have problems, he latched on to the other gentleman took him under he swallowed on board a bunch of lake water. Was very disoriented, had been under a couple of seconds with him and then got to shore."
Several nearby witnesses dove in to the murky water save the man but it was too late. Later a bass fishing boat with an underwater camera located the body in an eddy at a depth of about 10 feet, and search and rescue crews retrieved the body.
Tracy See, Asst. Park Manager: "It's too bad. It's a tragedy. I can't believe it happened right there close to us like that. Eighty percent of all deaths occur because you're not wearing a life jacket and most likely the individual cramped up due to the cold waters and overexertion, probably being out in the sun for a long period of time and not having a lot of food, nutrition on board."
The Wasatch County Sheriff's Department has not released a name yet, pending the notification of relatives.
×
Most recent Utah stories