Estimated read time: 1-2 minutes
This archived news story is available only for your personal, non-commercial use. Information in the story may be outdated or superseded by additional information. Reading or replaying the story in its archived form does not constitute a republication of the story.
Nishi Gupta ReportingLayton police are still waiting for an armed man to come out of an apartment building. Authorities have been trying to communicate with him for hours.
Layton police responded to the situation at about 1:30 today, and nine hours later they're still there.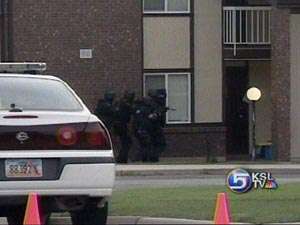 Police say a 26-year old man was holding a woman and five children against their will. They're told he has a gun and a knife. Police were able to get the woman and kids out, but the man has refused to come out.
Around 8:30 tonight SWAT teams threw a cell phone in through a window, hoping to make contact with the man. As of yet, he has not used that phone. Police say they're not even sure if he's alive at this point.
Police are working on getting details of the situation, but believe they know what started it.
Sgt. Mark Chatlin, Layton Police Dept.: "The information that I have right now is that it is over drugs, and possibly money. Drugs and money, some kind of combination."
The division of Child and Family Services now has the children in custody. The woman is being questioned by Layton police.
We're told that earlier three people in Ogden were taken into custody, one who was being held hostage by two others. Police say that situation has a direct connection to this case.
Police know who the man is, but aren't releasing his name. They say he does have two existing minor warrants. Police hope to have a search warrant for the man within the hour, at which point they can approach him. He faces up to six counts of kidnapping, at the least.
Other residents of the apartment building have been evacuated until further notice.
×
Most recent Utah stories