Estimated read time: 2-3 minutes
This archived news story is available only for your personal, non-commercial use. Information in the story may be outdated or superseded by additional information. Reading or replaying the story in its archived form does not constitute a republication of the story.
Keith McCord ReportingCuba was hit hard when the hurricane passed over the island yesterday. At least 10 people died, and there was lots of damage. But, help is on the way. Several volunteer organizations have organized a humanitarian drive to send supplies to Cuba. Problem is, it's illegal!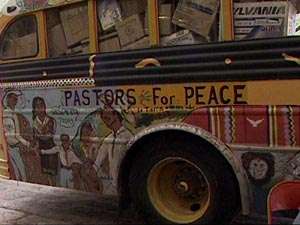 On the side of a brightly painted bus are the words "Caravan to Cuba". Inside the bus is everything from bicycles to bibles, clothing to school supplies. The group responsible is called "Pastors for Peace".
Catherine Murray, Pastors for Peace: "By the end of the route we will have collected 200-tons of aid to take to Cuba. This is very important and obviously very needed."
The bus stopped in Salt Lake tonight-- it's one of 14 different caravans which will collect supplies from 130 cities.
Catherine Murray: "And we'll be converging at the Mexican border at McAllen, Texas. By the time we're there, there will be 140 US citizens and people from seven other countries from around the world."
Then, they'll take the supplies to Cuba, which was ravaged by the hurricane. But technically, they're breaking the law. The US has had a trade embargo with Cuba in place since the 1960's. For years, the Pastors for Peace organization has openly defied the law, saying it's outdated.
Catherine Murray: "We believe that it is illegal and immoral, and we are going in open defiance of that. We'll cross the border on the 21st of July and go to Cuba with this aid in our arms."
A humanitarian effort with a definite political message attached. This is the 16th time that this group has conducted such a mission to Cuba, to challenge the embargo. Members have met resistance from US border agents during those previous trips, but in the end, the supplies always made it to Cuba.
×
Most recent Utah stories