Estimated read time: 3-4 minutes
This archived news story is available only for your personal, non-commercial use. Information in the story may be outdated or superseded by additional information. Reading or replaying the story in its archived form does not constitute a republication of the story.
Tonya Papanikolas reportingChrystal Hernandez, Hostage: "He goes, 'you're my hostage and I'm gonna hold you, hold you until you pay me. You gotta make it right."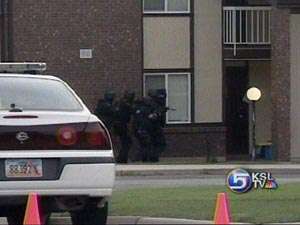 Saturday's day-long hostage situation and then standoff with police in Layton ended around 1:30 Sunday morning. The suspect eventually gave himself up and no one was hurt.
The hostage and her boyfriend claim they only met the suspect in the last week. They say he invited them to hang out at his girlfriend's apartment Friday.
By the time morning rolled around, a fight over drugs turned into what police are calling an aggravated kidnapping.
It was an 11-hour standoff with police at this Layton apartment complex Saturday. It all began when Ryan Richardson woke up in the morning, and said Chrystal Hernandez, a guest at the apartment, stole his meth.
Chrystal Hernandez, Hostage: "He started flipping out on me, he went to his room and got a gun. He started pointing it at me, and I thought he was going to kill me. He said he was going to kill me."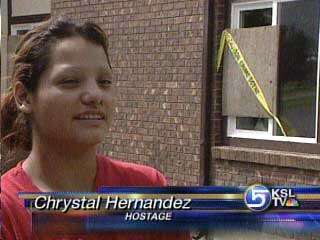 Geriman Resendez, Chrystal's Boyfriend: "He just blew up, flipped out, swinging a knife."
Chrystal says after a few hours of fighting, the suspect agreed to let her boyfriend leave and go get money to pay Richardson back. But she had to stay.
Chrystal Hernandez, Hostage: "He made me get down on my knees and he had the gun to my head, and he just kept like kicking me.."
Meanwhile, her boyfriend, Geriman Resendez, was sent with two people watching him to get money.
Geriman Resendez, Chrystal's Boyfriend: "They were holding little knives, a little gun."
Resendez went to his mom's house, who called police. Officers eventually showed up at the Stonehedge apartments, where Chrystal was being held. Richardson's own children were holed up in a room. By the time officers knocked on the door, Chrystal was ready.
Chrystal Hernandez, Hostage: "The cops said, come out with your hands up, and I came out, and they were asking me, are you the hostage? I said yeah."
Sgt. Pete Davis, Layton City Police: "Once we found out who she was, we pretty much grabbed a hold of her and pulled her out of the apartment."
Over the next half hour, police got all of the kids out, and then tried to negotiate with Richardson. They threw phones through the windows, but he didn't respond.
For hours, the SWAT team moved in and out with no response. They even used exploding light devices, hoping to stir him.
But it wasn't until they got a search warrant and brought in a dog that Richardson gave himself up.
Sgt. Pete Davis, Layton City Police: "I guess he heard the dog barking and came out without any resistance at all."
Police say that Richardson was coming down from a meth high.
When they searched the apartment, the weapon they found was a fake gun. Richardson and the two people who had been holding Chrystals boyfriend were all booked into the Davis County jail on aggravated kidnapping charges.
×
Most recent Utah stories