Estimated read time: 6-7 minutes
This archived news story is available only for your personal, non-commercial use. Information in the story may be outdated or superseded by additional information. Reading or replaying the story in its archived form does not constitute a republication of the story.
KSL Team CoverageA six-alarm fire Monday destroyed Wasatch Junior High School, leaving officials scrambling to place 850 students for the fall term that starts in less than seven weeks.
Fire Capt. Gaylord Scott said the building in Holladay was a total loss. The cause hadn't been determined, but Scott wasn't ruling out arson.
More than 100 firefighters fought the blaze, with six to eight fire trucks responding. Flames were visible from across the Salt Lake valley.
At 12:30 the fire alarm went off, and the principal discovered the source on a computer server in the media center. Flames spread to the attic, an area impossible to contain.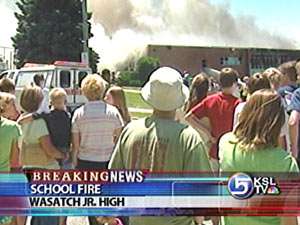 What was a three-alarm fire became an uncontrollable six-alarm inferno.
For a time firefighters tried to fight the fire from the inside, going room to room. But the fire continued to spread and grow quickly, forcing firefighters to exit the building and try to fight the fire from the outside.
"It's just a building, but a building is a place where people are invested in each other's lives, and this one is toast," said Principal Doug Bingham.
Witnesses apparently saw smoke coming from the computer server, called 9-1-1 and evacuated the building, then grabbed fire extinguishers to try to put it out themselves.
The school was built in 1959 and may not have had a sprinkling system installed.
Scott Gaylord, Unified Fire Authority: "They (firefighters) tried every trick in the book to try to stop the fire from spreading. They tried drenching the roof, they tried attacking it from the inside, they tried attacking it from the outside, and were just not able to stop it." Reporter: "At what point do you stop trying to attack it from the inside or the roof?"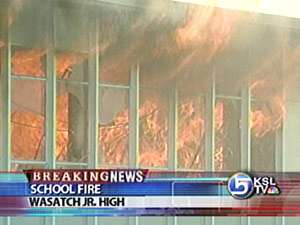 Scott Gaylord, Unified Fire Authority: "Basically it's up to the individual crew, but you could pretty much say we're there now. You could pretty much say we're letting the fire put itself out. We're still trying to direct it, still aggressively fighting the fire, but at this point, with the time and how long we're into this thing, we're basically just hoping it quits finding new fuel sources and goes out."
School was not in session and no students were in class, but there were some people on the premises. All were safely evacuated. One firefighter became slightly overheated, but there were no other injuries.
The school is located at 3750 South 3100 East in Salt Lake City.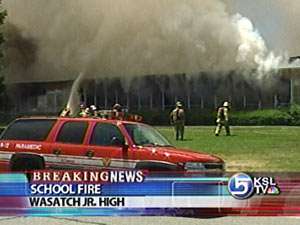 There have been some reports of a limited water supply at the beginning, making the fight more difficult. Apparently all the water was coming from one grid originally, which was not sufficient. Hose lines were extended and water began coming from other grids. The water company also reportedly turned off water to other grid systems, increasing the supply being used for the school.
The superintendent of the Granite school district says they don't have a contingency plan for this sort of thing because fires are such a rare event.
Future of Students
School administrators will meet in the morning to discuss the future for the 850 to 900 Wasatch Junior High students come fall. One posibility is to divide the students among nearby schools.
Churchill Junior High is close, and is about 600 students short of full capacity. Olympus isn't far away, either, and has space for 300 more junior high students than it has enrolled. Evergreen is another possibility, with room for 180 more students.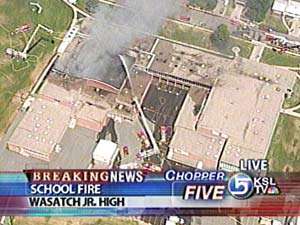 No decisions have been made. Administrators want to try and keep classes together.
Whether Wasatch Jr. High ultimately will be rebuilt and replaced, or the students will be split up and go to existing schools is unknown.
The superintendent says they do have insurance on the building to cover expenses.
"We do have contingencies in place in terms of liability loss. We'll just have to take a look at it and see how much we're dealing with here in terms of fire."
He says it's a nightmare to those who work in the school district.
Superintendent of Granite School District: "This is one of those nightmares that you hope you never have to experience. For a superintendent, having a fire in a school is absolutely one of those nightmares you hope you never have to experience."
All student records are filed electronically on a central server, so they're secure.
Sense of Loss Sets In
Over the last 46 years, thousands of students have attended Wasatch Junior High. And as the smoke settled Monday night, dejection set in.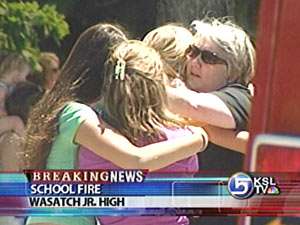 Students, parents and neighbors went by the school all evening long, to see for themselves how bad the fire was. It has been discouraging and even painful for them, as they think of their own memories of happier days here, at a school they loved.
As smoke started filling the neighborhood, people came out of their homes to see what was going on. Sadly there was nothing they could do but watch.
Isaiah Neve, Student: "The one that just broke through is Mrs. Aagard's room. Her room's all burned up. A couple of other rooms burned up too, that I remember."
Wasatch Junior High has been here since 1959. Since then, thousands of students have walked the halls and now seeing it a blaze gives former students a real sense of loss.
Greg Liston, Graduated 1983: "That's Mr. Cox's old room going up in flames. He taught history. We liked him, he was cool."
Greg Liston, Graduated 1983: "It was a good school. Total loss. Pretty sad."
Neighbors say the school was the heart of the community.
Chuck Neve, Neighbor: "We moved to this neighborhood for the schools... Skyline, Wasatch, and Upland Terrace, always among the top schools in the district, every year, top two or three. So this will be a real loss for the neighborhood."
Several generations of students have attended here over the last 46 years. And for those who went to school here, sent their kids to school here, or just lived close to Wasatch Junior High, it seems to be the end of an era.
Cathy Whitehead: "Good teachers. Good community. A lot of involvement. Mr. Fagg, the teacher who just retired this year, I had him, my husband had him, my kids have had him. The teachers have been here for a long time. They are good teachers."
Of course with every school, there are those unique items to your school, such as the mascot, trophies and those special items the teachers have in their classrooms. What was lost and what is salvageable is still not known.
Past School Fires
Other Utah school districts have similar challenges when schools burned.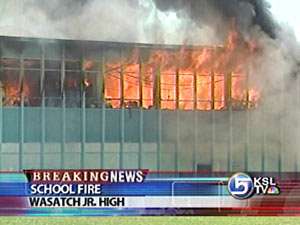 In the last ten years, several Utah elementary schools have burned, the most recent was Sandy Elementary in Jordan School district. It was a Thursday afternoon in November of 2004 when fire broke out at Sandy Elementary. Most students and teachers had already gone home. The majority of the damage was from smoke and water, and by Monday morning all 600 students were bussed to six other neighboring schools.
It was arson that destroyed Ogden's Lincoln Elementary. No arrests were made. Students had be relocated in other schools while the school was rebuilt. It just recently re-opened.
And it was ten years ago that Oquirrh Elementary school was destroyed by fire. That school was an open area school equipped with heat detectors, but not sprinklers. An interior firewall successfully protected the cafeteria and kindergarten classrooms from the fire. The rest of the school was rebuilt.
(The Associated Press contributed to this report)
×
Most recent Utah stories