Estimated read time: 1-2 minutes
This archived news story is available only for your personal, non-commercial use. Information in the story may be outdated or superseded by additional information. Reading or replaying the story in its archived form does not constitute a republication of the story.
Amanda Butterfield reporting Two people ended up in the hospital after a car slammed into a raod repair project along 7200 south.
The area where the man was working had been clearly marked with signs and cones. But state troopers say that apparently didn't stop a driver from speeding down the freeway, ultimately causing a messy crash near 7200 South.
Utah Highway Patrol troopers say this is the cone zone season, so watch out.
Construction workers were out late last night, re-striping a chunk of the freeway at 7200 South. Workers had closed a number of ramps, posted warning signs and set out orange barriers. But despite all the safety measures, a double car accident sent two people, including a worker, to the hospital.
Utah Highway Patrol troopers say a driver didn't realize his lane was about to end and slammed into a white Chevy.
The worker is in surprisly decent shape. He has some head trauma, but he was conscious when emergency crews arrived.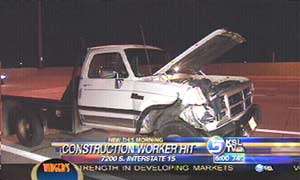 The woman in the Chevy had some neck pains and possible whiplash. Both were taken to Cottonwood Hospital.
As for the man who caused it all, troopers say preliminary investigations show he was speeding and he may have been drinking. No arrests have been made.
Troopers say the workers had taken all necessary precautions to avoid something like this.
Sgt. Ted Tingey/UHP: "They were doing everything right. The closure was in place. Just a combination of driver error and not paying attention to the driving."
Authorities are reminding everyone, these workers will be out all summer. They say obey construction signs, slow down and move over to avoid cone zones.
×
Most recent Utah stories