Estimated read time: 1-2 minutes
This archived news story is available only for your personal, non-commercial use. Information in the story may be outdated or superseded by additional information. Reading or replaying the story in its archived form does not constitute a republication of the story.
Sammy Linebaugh reportingA hit and run crash and massive manhunt for suspects ends with two arrests in Provo Canyon. State troopers say two men were wanted for ramming into a deputy's patrol car.
Sheriff's deputies say alcohol or drugs may have played a role in last night's crash.
The Utah County Sheriff's Office says it all began when a deputy tried to pull over a car near Squaw Peak. Two men were inside.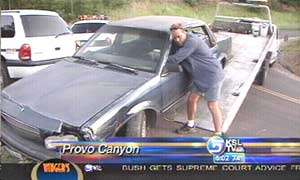 Authorities say sometime during the traffic stop, the driver threw his car into reverse, aiming for the deputy's car.
Deputy Robert Jones, Utah County Sheriff's Office: "The vehicle attempted to back up into the deputy and rammed his door. At that point, they got scared, and took off down the canyon."
Deputies say the driver was speeding down the canyon when he lost control, and crashed his car into a ravine. Both men inside then got out and took off running.
A Highway Patrol helicopter and a plane were then used to search for the men.
People in Provo Canyon saw the men, found a state trooper, and guided Highway Patrol to where the suspects were hiding.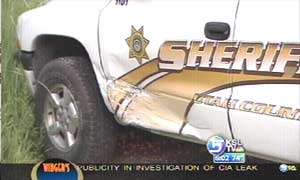 Both were arrested and one was taken to the hospital for some minor injuries from the crash.
Sheriff's deputies say both men are now awaiting charges for the hit and run, but they won't say if either suspect is wanted on other charges.
×
Most recent Utah stories