Estimated read time: 2-3 minutes
This archived news story is available only for your personal, non-commercial use. Information in the story may be outdated or superseded by additional information. Reading or replaying the story in its archived form does not constitute a republication of the story.
Sandra Yi ReportingA Springville teen who was sexually abused by her grandfather has won her fight to keep him in prison. It's a bittersweet victory.
The Board of Pardons denied parole, for Eugene Swenson. The Utah State Prison will be his home for the next three years. But his victims want him there for the rest of his life.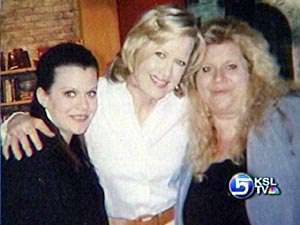 Ashley White was only 11 when she testified against her grandfather at his first parole hearing. It was hard for her to see him. In May, Ashley, who is now 18, broke down again.
Ashley White: "In three more years we're going to have to deal with that all over again."
But she'll do what it takes to keep him in prison. Eugene Swenson has spent 11 years behind bars. He was convicted of felony sex crimes against four of his grandchildren.
Susan White, Ashley's Mother: "Unfortunately we've had an 11-year education as a family that we never set out to get."
But Ashley has used her past to give hope to other victims.
Ashley White: "That's what makes me feel good, that, yeah, I came from something really bad, but I turned it into a positive, and I can show other people how to turn it into positive."
It's unusual for victims of sex crimes to go public, but in the past two months Ashley has appeared on network television programs. She and her mom are fighting for tougher penalties for sex offenders. Their work has inspired other young victims.
Ashley White: "One girl is now putting her perpetrator on trial because I talked her into it. I just wanted to help kids, cause it's a thing that we don't talk about. It's hard for me to even talk about it, but I wanted them to know that it's ok to talk about it."
As for her abuser, Ashley has this message for him.
Ashley White: "I just hope he doesn't get excited about those three years being up, because no matter what, even if he does get out, it'll never be over for him."
Eugene Swenson is 77 years old. His next parole hearing is in 2008, and you can bet Ashley will be there.
×
Most recent Utah stories