Estimated read time: 1-2 minutes
This archived news story is available only for your personal, non-commercial use. Information in the story may be outdated or superseded by additional information. Reading or replaying the story in its archived form does not constitute a republication of the story.
John Daley ReportingIt doesn't take a genius to figure out that when the temperatures hit triple digits our demand for electricity also rises considerably. Scientists have a term for urban areas that generate a lot of heat, they call them "urban heat islands" and boy it sure feels like an urban heat island today.
At Liberty Park today there was a crowd of kids and parents who converged on the fountains there in an effort to cool off, and it's no wonder really on days like today it's just hard to find a cool spot.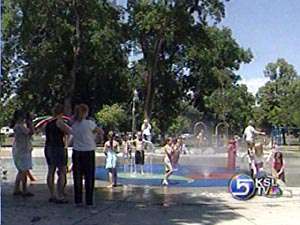 Jinjer Donaldson, Sandy Resident: "We heard about this cool water stuff at Liberty Park, so we decided to come check it out because it's like 102 today supposedly."
Crystal Sautter, Orem Resident: "Our house is three story and you can't keep the upstairs cool enough, and our bill is outrageous."
Utah Power reports that yesterday at 5:00 pm they hit a new peak demand for electricity, at 5,848 megawatts, outdoing a record set July 22, 2003, the last time it's been this hot. For residential users combined air conditioning and refrigerators make up about half of our power usage. The system gets taxed two ways:
Margaret Oler, Utah Power Spokesperson: "Obviously during the day, when the temperature gets so hot and there's so much demand placed on the electrical system. The second way is at night, Mother Nature just isn't turning the temperature down there either and the equipment which has been working so hard all day doesn't have the chance to cool down at night."
Our best advice is to conserve during the peak period from noon to 8:00 pm.
×
Most recent Utah stories