Estimated read time: 2-3 minutes
This archived news story is available only for your personal, non-commercial use. Information in the story may be outdated or superseded by additional information. Reading or replaying the story in its archived form does not constitute a republication of the story.
Tonya Papanikolas ReportingExperts say people may not realize how hot it can get inside a car on a day like today, and just how quickly the temperature can rise. For kids, pets, the elderly, it's just not a good time of year. Unfortunately, the CDC reports that about 300 people die every year from exposure to heat.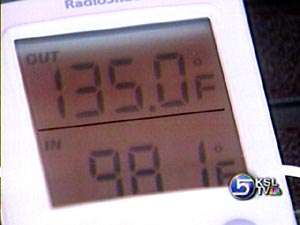 Today is an extremely hot day, but it doesn't need to be this hot to cause problems. On a bright, scorching day like today, people try to cool off their cars with sun shades, others park in the shade. But these things will not be enough to make young children comfortable inside a car.
Deputy Chief Kevin Bowman, South Salt Lake Fire Department: "Even if you roll your windows down one or two or three inches, it still doesn't matter. There's still a lot of heat in there, the upholstery and everything absorbs a lot of heat."
We wanted to see just how hot a car gets in this weather and how fast, so we asked the South Salt Lake Fire Department to place a thermometer inside a car. The temperature started off at 98.2. Within the first 30 seconds it had jumped 11 degrees. After five minutes it surpassed 135-degrees, and after ten minutes the temperature inside this vehicle was 138.
Deputy Chief Kevin Bowman: "It's just not a good thing to leave your kids unattended at all in your vehicles."
The same thing goes for pets.
Temma Martin, Salt Lake County Animal Services: "A pet can literally die in a car in a very short period of time."
Just yesterday a dog died in Salt Lake because an owner left him in a car for two and a half hours.
Temma Martin: "The rule is, if you take your pet with you, take it out of the car when you arrive. If it's hotter than 70 degrees outside, you can't leave a pet in a car."
Aside from cars, health experts warn young children and seniors may want to avoid being in the heat altogether, since they're the most susceptible to heat-related illness.
Ken Venables, Salt Lake County Aging Services: "Their immune system being much weaker than ours, their stamina being much less than ours, obviously they're gonna feel it."
Salt Lake County says senior centers offer air-conditioned, indoor activities for seniors during the day. And they are currently looking for people to donate fans for seniors. If you can help, call Salt Lake County Aging Services.
×
Most recent Utah stories