Estimated read time: 2-3 minutes
This archived news story is available only for your personal, non-commercial use. Information in the story may be outdated or superseded by additional information. Reading or replaying the story in its archived form does not constitute a republication of the story.
Amanda Butterfield reporting Two known criminal are off the streets following a dangerous overnight chase.
Sgt. Vaugh Allen/Taylorsville Police Dept.: "He had been involved in other thefts. He was a known car thief and was currently on ankle monitor."
It happened overnight in Taylorsville, and ended after the two suspects tried to make a risky getaway.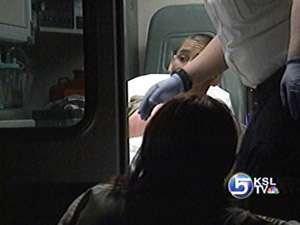 Both of the suspects are in jail on drug related charges, but one of them, Matthew Garcia, had to go to the hospital first. He tried to get away from police by jumping out of a car moving at 40 miles an hour.
Overnight in Taylorsville, officers were staking out a well known drug house when they saw a car leaving.
Sgt. Vaghn Allen, Taylorsville City Police Dept.: "The vehicle was listed as stolen "
So police followed.
Sgt. Vaghn Allen, Taylorsville City Police Dept.: "Officers had info the driver was Mathew Garcia, and he was known to carry handguns."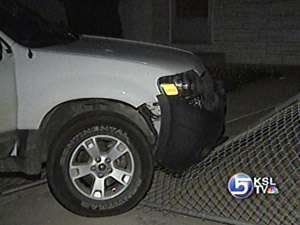 Matthew Garcia is a known criminal, and officers tried to pull him over, but he wouldn't stop. Instead he jumped out of his car, while it was still running, and while the other suspect, Melissa Nelson, was still inside.
Sgt. Vaughn Allen: "The car he abandoned rolled into a fence, and the female also took off running we found her a short distance later."
She ran and hid from police, but was quickly found. As for Garcia, he still tried to get away even while he was being handcuffed.
Sgt. Vaugn Allen: "He made up story passenger holding against will at gun point, which is a false claim."
Inside the stolen car police found drug paraphernalia and meth. Both have been arrest, and police say they're glad both are off the streets.
Sgt. Vaugn Allen: "These two have been involved in criminal activity for sometime."
Garcia has been booked on 4 felony charges: possession of a stolen vehicle, fleeing, drug possession, and criminal mischief. He's being held without bail.
Nelson was booked for one felony: possession of drugs, and five other misdemeanors including obstruction of justice and fleeing.
×
Most recent Utah stories