Estimated read time: 2-3 minutes
This archived news story is available only for your personal, non-commercial use. Information in the story may be outdated or superseded by additional information. Reading or replaying the story in its archived form does not constitute a republication of the story.
Sandra Yi Reporting Ousa: "They were supposed to serve and protect. I don't believe any of that happened that happened tonight."
A week ago today an elderly man was shot and killed by a West Valley City cop. Now his family plans to file a multi-million dollar lawsuit against the city.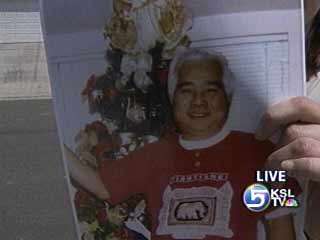 The victim was shot three times at point blank range in front of his house, but his family and police tell different versions of what happened. The family has hired an attorney.
The family of Boumny Ousa says they just want justice for an innocent man. They say he was killed by cops in "cold blood". Surrounded by Ousa's family, their attorneys announced that they plan to file notice of a wrongful death lawsuit against West Valley City.
They say Ousa was unarmed when he approached two plain clothes detectives who were parked outside his home. They were undercover, waiting to serve a search warrant at a nearby home.
Clark Newhall, Family Attorney: "He's infirm and walks slowly. The street is well-lighted. He walks out to the car, stands briefly on the opposite side of the car from the house, stands briefly by the driver's side window and then, 'boom, boom, boom'. At least three, maybe five shots."
Steve Ousa, Son: "They thought I had a weapon, so that's why they rummaged through the house, but they didn't find nothing. My father never owned a gun in his life. He wouldn't hurt nobody with no weapons."
Steve Ousa says the detectives first tried to cover it up and suggested that there was a drive-by shooting. His attorney says Boumny Ousa was left to die for several minutes before he got any medical attention.
West Valley City Police said, Ousa became upset and began arguing with them. They say the officers fired because they saw Ousa reach behind his back and thought he had a gun. West Valley City Police declined to comment on the lawsuit.
The District Attorney's Office is conducting its investigation, which will be done in several weeks. There is also an internal investigation going on. West Valley City has 60 days to respond to the notice of claim. If there's no response, the family will go ahead and file the lawsuit.
×
Most recent Utah stories