Estimated read time: 2-3 minutes
This archived news story is available only for your personal, non-commercial use. Information in the story may be outdated or superseded by additional information. Reading or replaying the story in its archived form does not constitute a republication of the story.
Sammy Linebaugh Reporting"You can run, but you can't hide", the old saying rang true in two separate crimes last night. Both incidents last night go to show, authorities say, running from the law only gets a suspect deeper in trouble.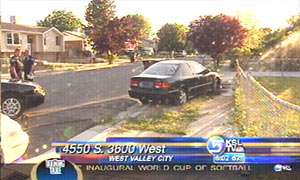 In one incident, West Valley City police spotted a car with stolen license plates near 45th South and 36th West. Inside were a female driver and a male passenger. An officer pulled the woman over and at first she complied, but then changed her mind.
Lt. Bill Froehlich, West Valley Police Dept.: "A stop was effected on the vehicle and the female driver decided she wasn't going to stop, and ran from the officer."
The driver sped down the street, but didn't get far. She lost control and hit a fence. Authorities found methamphetamine inside the car and discovered that not only were the plates stolen, but the car itself was stolen too.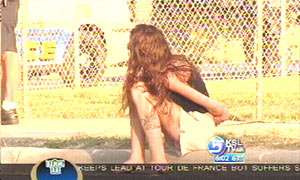 And in another case Taylorsville police also stopped a stolen car, a Toyota 4-runner. Again the driver pulled over at first, but then took off. He pulled into a Phillips 66 gas station, jumped out of the car and started running. Two officers quickly caught up with him at 47th South and 36th West, but the suspect still wouldn't give up, so the officers pulled out a taser gun.
Sgt. Vaugh Allen, Taylorsville Police Dept.: "The Taylorsville detective fired a taser, striking him once in the torso and once in the leg. It didn't have an immediate effect. The county Sergeant fired his taser."
In total, four tasers were fired. Authorities say they had to use so many because the suspect dodged the first two. Medical crews were called to the scene as a precaution, but the suspect is expected to be okay. Police say he's a known gang member with several outstanding warrants.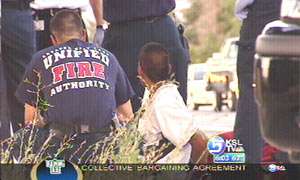 Police say in addition to charges these three suspects already would have faced, they will now likely face felony charges for fleeing from an officer.
×
Most recent Utah stories