Estimated read time: 2-3 minutes
This archived news story is available only for your personal, non-commercial use. Information in the story may be outdated or superseded by additional information. Reading or replaying the story in its archived form does not constitute a republication of the story.
Shelley Osterloh ReportingA 74-year old Nevada woman missing for 19 hours is found safe, miles from where she disappeared. The woman suffers with Alzheimer's Disease and doesn't know where she was all night, but she was found by a security guard at the Delta Center.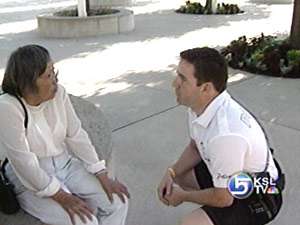 This morning University of Utah police got the call that a woman matching Geraldine McMahon's description was there, chatting with a security guard. She told him she was waiting for her husband to come and pick her up.
Geraldine McMahon: "I'm the kind of person who likes to explore and see different sights."
Delta Center Security Guard Keith Olsen spotted Geraldine McMahon this morning and called police.
Keith Olsen: "I was checking levels, looked out, saw her sitting on one side, saw her over here, kind of reminded me of what I heard on the radio."
She told him she was waiting for her husband and didn't know there's been a search going on for her.
Geraldine McMahon: "Why in the world? He dropped me here, I've been here."
But her husband hadn't seen her since 1:45 yesterday, when he left her waiting in the car while he had an appointment at the University of Utah Medical Center.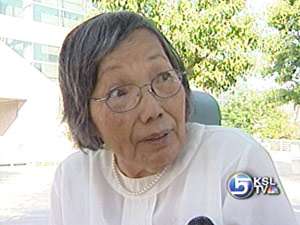 Sgt. Earl McKee, University of Utah Police Dept.: "She was gone. The windows down, the keys were still in the car, but she was gone."
No one knows where she was or what she was doing for the 19 hours she was gone.
Officer Smith: "Geraldine! We've been looking for you."
Geraldine: "I wasn't missing."
Officer Smith: "You're not missing? You just went for a walk?"
Six in ten people with Alzheimer's Disease will wander. They may become disoriented and lost even in their own neighborhood. The Utah Chapter of the Alzheimer's Association has information and help for care-givers.
A Safe Return bracelet or necklace will identify someone as memory impaired. Here in Utah there are more than 30 thousand people with Alzheimer's and other forms of dementia, and 75% of them are cared for at home by family members.
×
Most recent Utah stories