Estimated read time: 2-3 minutes
This archived news story is available only for your personal, non-commercial use. Information in the story may be outdated or superseded by additional information. Reading or replaying the story in its archived form does not constitute a republication of the story.
Carole Mikita ReportingTens of thousands of teenagers are participating in a huge statewide event over the next two days. The event is called 'Day of Celebration'; Latter-day Saint young people are commemorating the 200th anniversary of the birth of their church founder, Joseph Smith.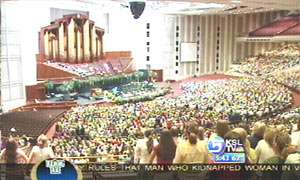 Small choirs started rehearsing in the spring, 12 to 18-year-old Latter-day Saints practicing on Saturdays and Sundays for a big event. Church leaders had asked them to celebrate the birth of Joseph Smith, their faith's founder. First challenge was to learn the music.
Paige Smith, 'Day of Celebration' singer "I thought the music was pretty hard but we've worked hard and we've got it down."
Karen Fogg, Young Women's Pres. Hegessy Ward: "I play a little piano and I still thought that the music was extremely difficult but, you know, we've learned it."
They next rehearsed in larger groups in their areas and then teenagers from all over the Salt Lake Valley formed the largest choir of young people ever assembled in Utah.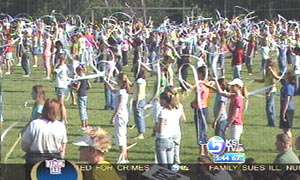 Kelly DeHaan, a choral director by profession, says he could not even imagine leading 15,600 young people.
Kelly DeHaan, 'Day of Celebratoin' Choral Director: "It wasn't until we'd had the first rehearsal that it started to dawn on me how many kids we would be affecting. It's enormous."
Ashley Coffey, 'Day of Celebration' Singer: "I thought that we would only fill one section of it but we filled up all the way to the next level and it was amazing."
Besides the singers, there are thousands of dancers. Through music and movement, they say, they hope to express their enthusiasm about their faith.
McKenna England, 'Day of Celebration' Dancer: "To have so many people together with the same faith and singing the same songs, I think it'll be amazing."
Kerri Regehr, 'Day of Celebration' singer: "I think in the end it'll be worth it. It will be exciting to see what really happens at the end."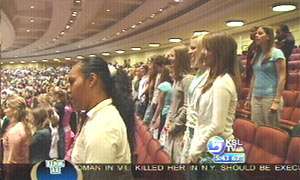 This day of celebration concept has taken place before in South America, Africa and other parts of the world before temple dedications but this one, is on a much grander scale.
×
Most recent Utah stories