Estimated read time: 1-2 minutes
This archived news story is available only for your personal, non-commercial use. Information in the story may be outdated or superseded by additional information. Reading or replaying the story in its archived form does not constitute a republication of the story.
Sandra Yi ReportingWe all know identity theft is a fast-growing crime, but adults aren't the only targets. Thieves are stealing information from children younger than 12-years old. The Attorney General's Office knows of nearly 2 thousand kids in Utah who are victims.
One Ogden couple was careful to keep their daughter's information private. But that didn't keep it from getting into the hands of identity thieves. For most of her short life, Bailey Smith has shared her identity with someone else. And it's not by choice.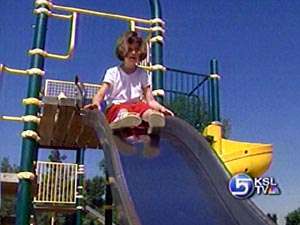 Scott Smith: "She doesn't know what to make of it. She's only five."
According to social security records, Bailey works at a steak restaurant in Provo.
Kelly Smith, Bailey's Mother: "So she drives from Ogden every day, 80 miles both ways, to go to work. So we told her she needs to start paying rent (laughs)."
The family can make light of it. But investigators say identity theft among children has become a widespread problem.
Ron Ingleby, Office of Inspector General for the SSA: "Here in Utah there are probably tens of thousands of incidents, and most parents don't know it's happening."
Bailey's parents had no idea it was happening to her, until they were notified by the Attorney General's Office.
Scott Smith, Bailey's Father: "This was not a situation of dumpster diving, finding documents I her name. These were obviously downloaded from a master list somewhere that we have no control over."
Mark Shurtleff, Utah Attorney General: "Right now your social security number can be purchased on the street for as little as $20."
The AG's office announced that five people have been charged with stealing and forging social security numbers belonging to children. More than 200 cases are pending. It's part of a multi-agency investigation.
×
Most recent Utah stories