Estimated read time: 2-3 minutes
This archived news story is available only for your personal, non-commercial use. Information in the story may be outdated or superseded by additional information. Reading or replaying the story in its archived form does not constitute a republication of the story.
John Daley ReportingKeep a close eye on your thermostat if you don't want to see your electric bill go through the roof. With it being so hot, it's tempting to turn the thermostat way down to keep your home way cool. But beware, air conditioning takes up a sizable chuck of many homes average summer bill and if you use a lot of power you could end up paying the top rate.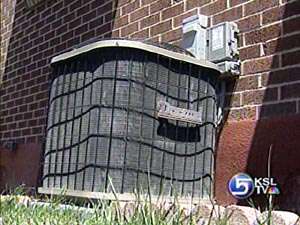 Hot time, summer in the city, some of us have solve that problem with a quick walk through the water, but for increasing numbers the AC is A-okay. Nothing in life is free, of course. In the typical home central air accounts for 30% of your electric bill. And when it's really hot you run the danger of sending your power bill soaring.
Margaret Oler, Utah Power Spokesperson: "We're all using more power during the summer and more electricity bumps that KWH usage up. Air conditioning is the biggest impact on electricity use on the system and in homes."
Utah Power gives its 700-thousand plus customers a pair of billing options. You can opt for the Time of Day rates, in which you pay more for power used during the peak weekday hours of 1 to 8 PM and less the rest of the week. Or, Utah Power recently phased in a new three-tiered summer rate structure, which reflects the fact the power the utility buys in the summer costs more.
With the summer rate option you'll pay the cheapest rate for your first 400 kilo watt hours each month, the next 600 you use you'll pay roughly a cent more per kilo watt hour. And if you top a thousand used, you'll pay the highest rate.
The average home uses 700 kilowatt hours, or about $51 a month in usage fees. If you doubled that because of the heat, to say 1,400 kilowatt hours, your usage goes to $112, more than double. Bottom line, use the AC a lot and the bills add up PDQ.
One other option available for Utah Power customers is the "Equal Pay" program, which spreads out how much you owe year round so you don't get hammered in either the summer or the winter.
By the way, recommended setting for your AC when you're not at home is 85. Then when you come home you can set it to 78 to cool things down.
×
Most recent Utah stories