Estimated read time: 2-3 minutes
This archived news story is available only for your personal, non-commercial use. Information in the story may be outdated or superseded by additional information. Reading or replaying the story in its archived form does not constitute a republication of the story.
Alex Cabrero ReportingHoward Dean and Democrats are getting a big jump start on the election season, but why in Utah? We're certainly not the first state you'd name when you think Democrat, but the DNC has a plan to send out its message in all states. Still, Utah is a tough one.
Dean spoke for about 40 minutes at Westminster College in Salt Lake City today. Many will probably say he's wasting his time. Utah voted Republican more than any other state in the country, which is exactly why he was here.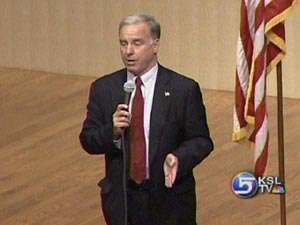 The seats filled up quickly to hear Dean speak. Who would've ever thought there were so many Democrats in Utah?
"We are very much alive and kicking."
Then again, when you get someone like Howard Dean to speak, empty seats are hard to come by.
Howard Dean, Chairman, Democratic National Committee: "We're starting now. This campaign is starting right now."
Dean, who ran for president in 2004, is on a rocky mountain swing. He wants people to listen to what Democrats have to say, instead of listening to what Republicans have to say about Democrats.
Howard Dean: "Most people agree with us. Even in Utah, most people agree with democrats."
And Dean spoke a little about everything, from the budget...
Howard Dean: "Not one republican president has balanced the budget in the last 35 years in this country. Not one."
…To the war in Iraq.
Howard Dean: "Most Americans think it is wrong to tell parents of the people who lost their lives in Iraq that we went there because of 9-11, when that was not true."
He also spoke about why gays should have benefits, children should have healthcare, and why the Supreme Court should be balanced and allow more personal freedoms.
Howard Dean: "We have a republican appointed supreme court that decided they can take your house and put a Sheraton Hotel in there. We have a republican government that can tell you when your loved ones get a feeding tube and when they don't."
Dean definitely spoke about a lot, and he knows Utah is traditionally Republican, more so than any other state, but he says if you listen to his party's message and put aside what you think you know, there's a chance you just might agree.
×
Most recent Utah stories