Estimated read time: 2-3 minutes
This archived news story is available only for your personal, non-commercial use. Information in the story may be outdated or superseded by additional information. Reading or replaying the story in its archived form does not constitute a republication of the story.
Sam Penrod ReportingA sad resignation is setting in at Utah Lake today where searchers are looking for a man believed to have drowned yesterday while boating. The missing boater, 18-year old Joseph Lawrence of Taylorsville, and his 28-year old brother were on a sailboat yesterday, when it capsized. Today searchers are expanding the area of the lake where they are looking for the man's body.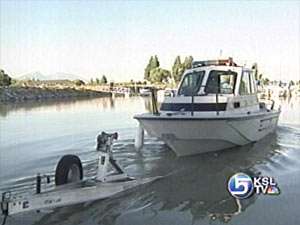 Searchers have been here since early this morning, but so far have not found any sign of the victim. It was late afternoon Sunday that the 911 call came in that Joseph Lawrence was missing in Utah Lake.
Today the search area has expanded because of the wind and lake currents over the last 24 hours. That is when Lawrence and his 28-year old brother Heath, got into trouble on the water in their small sailboat. The younger man was not able to stay with the boat, his older brother was rescued four hours later.
Searchers say that while Utah Lake is relatively shallow, typically ten to fifteen feet in most places, the water is very murky and the visibility is not very high. That's why searchers are using high tech sonar equipment to help in the search. More than 80 searchers from Utah County and the state are there, in what authorities admit is no longer a rescue operation.
Sgt. Spencer Cannon, Utah County Sheriff's Office: "We do look at this right now primarily as a recovery operation; we haven't closed out all hope that it is going to be otherwise, but the likelihood of that is pretty slim."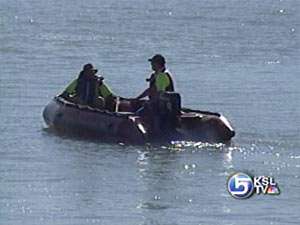 Olin Johnson, Utah County Search & Rescue: "A strong swimmer might have lasted quite some time without a PFD, the waves that were on the lake last night were pretty significant, would have tired someone out very quickly regardless of how strong they were. If that's the case, maybe an hour tops, for a strong swimmer."
Searchers have found a few items that were in the capsized boat, such as a water bottle and pop can, that at least is giving them a better of idea of where to search and to especially use that sonar equipment.
Searchers plan to keep looking until dark tonight and expect the search will continue for the next few days, if necessary.
Because of the search, recreational boating is closed near on the north and western shores of the lake.
×
Most recent Utah stories