Estimated read time: 2-3 minutes
This archived news story is available only for your personal, non-commercial use. Information in the story may be outdated or superseded by additional information. Reading or replaying the story in its archived form does not constitute a republication of the story.
John Daley reporting The contentious case of a 12-year-old diagnosed with cancer, which led to a protracted legal fight and helped inspire a parental rights movement, is headed back to court.
Today, the parents of Parker Jensen filed a lawsuit against the state and Intermountain Health Care, which they believe mis-diagnosed him.
The Jensens are also suing seven named individuals involved with the case, including four Primary Children's doctors and a state social worker.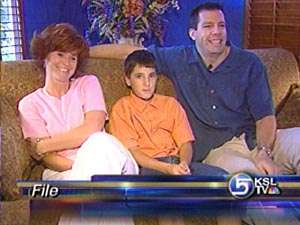 Claiming emotional distress, they describe the defendants' actions as "outrageous" and "reckless" and are suing for unspecified damages.
This is the story of a then 12-year-old boy, a diagnosis, and a power struggle between his family and the medical and governmental establishment-- a power struggle re-ignited today.
It all started at Primary Children's Hospital when a doctor, Lars M. Wagner, diagnosed Parker Jensen with the rare Ewing's sarcoma. The parents disagreed and left the state.
Daren Jensen/ Parker's Father/ 2003: "I am the parent. I am the one who will be deciding how we're going forward."
Utah filed kidnapping charges, saying based on medical evidence, the cancer would prove fatal without treatment.
But the Jensens maintained doctors were conspiring with state officials to force harsh chemotherapy treatment Parker didn't want or need.
Parker Jensen, 2003: "The state of Utah needs to leave us alone."
The lawsuit alleges doctors at Primary Children's failed to complete -- and in some instances refused -- sufficient additional tests to accurately diagnose the disease, typically discovered in bones not the mouth, where Parker's irregular cells were found.
Court documents also maintain a battery of other tests on Parker all came back negative.
The suit claims the state gave significant encouragement and assistance to the hospital, and never conducted its own independent investigation.
The family declined a request for an interview. Court documents describe Daren Jensen as losing his job in the middle of the controversy and struggling to find another.
In a statement tonight he says: "The impact of the medical neglect accusations has been financially devastating on us. The State of Utah was holding us accountable for our decisions with respect to Parker's health care, and now it's time to hold the State accountable for its decisions."
We contacted DCFS and the hospital tonight. Both declined to comment, saying they hadn't had a chance to look at the lawsuit yet.
We were unable to reach Dr. Lars Wagner, who has left Primary Children's.
By the way, the Jensen's attorney tells us Parker is not showing any signs of cancer, but wouldn't comment on any treatment he has received.
×
Most recent Utah stories