Estimated read time: 1-2 minutes
This archived news story is available only for your personal, non-commercial use. Information in the story may be outdated or superseded by additional information. Reading or replaying the story in its archived form does not constitute a republication of the story.
Amanda Butterfield reportingUtah parents have a new tool to help stop pornographic emails from coming into their homes.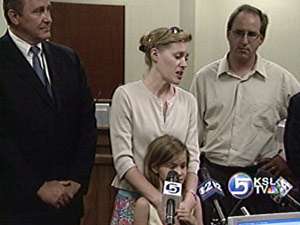 It's the Children's Protection Registry Act. It is intended to stop unwanted pornographic or illegal e-mails from being sent to your kids.
Think of it as a do-not-call list for your kids' e-mail accounts. Utah was the first in the country to pass this legislation, and now the site is up and running.
Rebecca and her daughter Sara were the first to register. Sarah has access to the internet at school, home, and the library, and her mother says she's glad her address is now registered.
Rebecca, Parent: "It's important to me that the state is willing to step in and assist parents in controlling the content that gets to our children."
Mark Shurtleff, Utah Attorney General: "This is not going to cost taxpayers money. This is funded by those who want to do commerce in Utah by sending these messages to us, they have to pay for it."
The registry is maintained by Consumer Protection.
Once registered, if your child's account continues getting prohibited e-mails, the attorney general's office will have the ability to prosecute.
This is one of the fist self-funding anti-spam laws ever passed.
According to a study done on e-mails and children, 80 percent of kids in the U.S. are targeted by inappropriate messages.
×
Most recent Utah stories