Estimated read time: 2-3 minutes
This archived news story is available only for your personal, non-commercial use. Information in the story may be outdated or superseded by additional information. Reading or replaying the story in its archived form does not constitute a republication of the story.
John Hollenhorst ReportingThe record prices we've been paying for gasoline in recent weeks have provided fuel to rekindle some old dreams. And they've renewed a Utah inventor's hopes of finally tapping an almost unbelievable resource in Eastern Utah. Is it the real thing or just another pipe dream?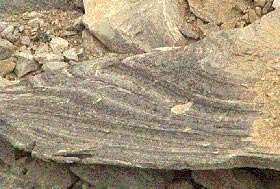 You might call this plant a "dream factory." And a blackish rock called oil-shale is what the dreams are made of. For decades people have been dreaming about turning it into a money-maker because there's a huge underground deposit of it and it contains an astounding amount of energy.
Byron Merrell, Inventor, Oil Tech, Inc.: "Enough to last the world for 150 years without drilling another oil well. Right here in Utah, Colorado, and Wyoming."
The federal government and big energy companies have poured billions of dollars into the dream already. A lot of it went down an enormous hole in the ground, a mine shaft more than a thousand feet deep.
Mike McKee, Uintah County Commissioner: "Well, this is a tremendous investment that was placed here in the 70's."
Three decades later the mine is abandoned, but the dream of an oil-shale bonanza is still alive with county officials.
Mike McKee: "I think it's very realistic. When you look at 50, 60 dollars a barrel for oil, I think the process is there. And we just need to get some regulations out of the way and allow it to happen."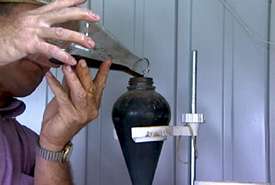 Inventor Byron Merrill is part of a long line of people claiming to have figured out just the right process for squeezing oil out of the rock and into the refineries. He admits skeptics abound.
Byron Merrell: "They figure if Exxon with their billions and Unocal with their billions couldn't do it, then how can we do it? But we have."
The rock has a bit of an odor, kind of like diesel fuel. And if you hold a light to it, it will start to smoke. And that smoke is where the value is.
Merrell's procedure is to crush the rock and heat it up in his dream factory, technically called a retort.
Byron Merrell: "We hit it with electricity until we get to a thousand degrees Fahrenheit. That causes the organic material to vaporize and smoke. We condense the smoke, that becomes oil."
High quality crude, far cheaper than MidEast oil, he claims. But he's still trying to line up investors.
Byron Merrell: "We need some incentives to help other companies to invest in it, maybe some tax breaks."
Reporter: "Tax breaks were thrown out left and right in the 70's and it didn't get us where we needed to be."
Byron Merrell: "That's true. That's true. They didn't have a process. We have a very inexpensive process."
Yes, and a dream. It's still alive, and may someday become a reality. Congress is considering legislation that would make oil-shale deposits available for companies to lease.
×
Most recent Utah stories