Estimated read time: 2-3 minutes
This archived news story is available only for your personal, non-commercial use. Information in the story may be outdated or superseded by additional information. Reading or replaying the story in its archived form does not constitute a republication of the story.
Ed Yeates ReportingPhysical therapists move faster now with patients and are more aggressive than they've ever been before. It's a new era for the practice, the science, and how the therapists themselves are credentialed.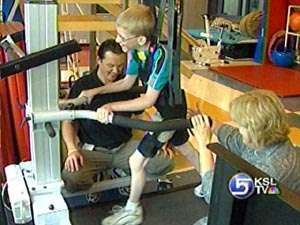 Ten-year old Eric Butterfield has Cerebral Palsy, but that matters not to him or his therapists, who with the backing of new research, are pushing the envelope like never before.
Diane Nicholson, Physical Therapy & Research, University of Utah: "Increase their speed, increase their endurance, help them look better so they look more normal, help them with adaptation so they can walk on unlevel surfaces or in snow or up a hill."
Under the new more aggressive science he walks, he runs, he picks himself up if he falls. And he's doing it with an attitude shared by both him and his therapists.
Eric Butterfield: "I like being independent."
Diane Nicholson: "I can do myself. Leave me alone. Even if he falls, he's willing to take that chance and he's developed a lot of self esteem - a lot of independence. He's feeling good and he's taking the chance. He's taking the risks."
Eric's family, including his older brother, support him all the way.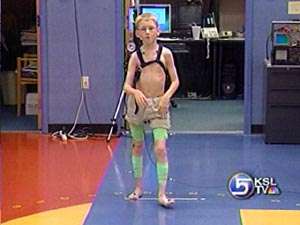 Jeff Butterfield: "I help hold onto him, so like if he falls, he doesn't get hurt."
In the gait lab at Shriners Hospital infrared cameras monitor speed, muscles and joints. Computers plot out movement, pressure pads measure the drop from each leg, as therapists, working in partnership with Shriners and the University of Utah, compose a complete map to keep Eric mobile.
Physical therapists are trained quickly to move patients through programs much more rapidly. But more importantly, to spend a lot more time with a patient, to train them what therapists use to take a long time doing.
In fact, the Unversity of Utah just graduated its first new doctoral class of therapists. More than 600 therapists from around the globe are in Salt Lake this week, sharing new research ideas. The international conference is sponsored by the American Physical Therapy Association.
×
Most recent Utah stories