Estimated read time: 2-3 minutes
This archived news story is available only for your personal, non-commercial use. Information in the story may be outdated or superseded by additional information. Reading or replaying the story in its archived form does not constitute a republication of the story.
Keith McCord Reporting"Summer school"! Students of all ages usually hate those two words, because it often means they didn't get a passing grade, and have to re-do a certain course. But, not always.
Russell Tucker heads up the science department at North Layton Junior High School. For the past two summers he's opened up his classroom to 7th, 8th and 9th graders to have some fun. Welcome to Mr. Tucker's two-week summer science course! It's a class that takes place outside on the school soccer field and indoors in his classroom. They work on homemade rockets, motorboats and other projects, just for the fun of it.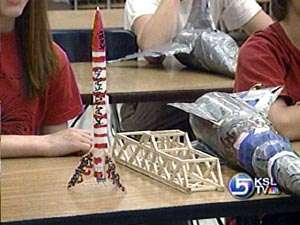 Russell Tucker, Science Dept. Chmn, North Layton Jr. High: "I've just had a lot of students say they'd like to do something during the summer, for the fun, and not because of a grade, or because they had to, just to have some fun with science in the summertime."
You can tell the kids are having fun when you walk into the class. Everyone seems to be holding onto or working on some sort of gadget, even Russell Tucker.
Baking soda, a square of toilet paper, vinegar, and some string. Pack all that stuff into an empty bottle of nail polish remover, and the resulting chemical reaction produces a very primitive motorboat! It's all about simple experiments where students learn everything from physics to chemistry.
Russell Tucker: "Just the basic stuff. You know, building rockets, and building little bridges and motorboats. Just something so they can work with their hands and get an idea that's fun, and get an idea that they can do stuff and that they can succeed doing it."
The kids like the hands-on approach, and if it flies or makes noise so much the better.
Back outdoors to the rockets, the students had pretty good success today, only a couple didn't make it off the launch pad. One landed on the roof of the school. Half the fun in this class shooting these things practically out of sight and then running and chasing it down, only to do it again.
Having fun and learning at the same time. Some of these students will probably enroll in Mr. Tucker's science classes during the regular school year too.
×
Most recent Utah stories