Estimated read time: 2-3 minutes
This archived news story is available only for your personal, non-commercial use. Information in the story may be outdated or superseded by additional information. Reading or replaying the story in its archived form does not constitute a republication of the story.
Amanda Butterfield reporting The heat is on for firefighters, not just from flames but also from high temperatures.
Two homes catch fire late last night, and fire authorities say the biggest challenge was battling the fires in the summer heat.
Capt. Rodger Broome/West Jordan Fire Dept.: "With the amount of heat in the last couple of days, we're concerned about the firefighters overheating in their gear."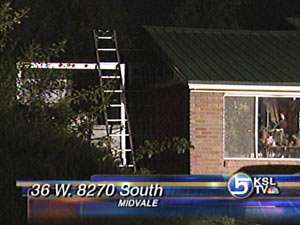 The cause of this fire is still under investigation. Authorities say it started outside the home -- perhaps in a wood pile -- then quickly spread to the attic and traveled across the top of the home.
The fire started around 9:00, last night. A neighbor spotted the flames and pounded on the door, warning the family of four inside. Everyone got out okay.
Authorities aren't sure when or if the family will be able to come back. Damage is estimated at 100-thousand dollars.
Fire officials say battling house fires on a normal night is hot enough, but add recent triple digit temperatures and the heat is almost unbearable.
Capt. Jay Thomas/Midvale Fire Dept: "You can feel how hot it is still, and that's a consideration to our firefighters, fatigue and stuff."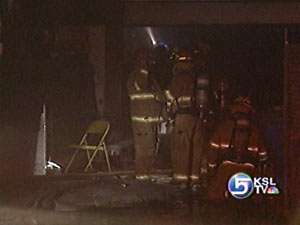 About two hours later, another fire broke out at a home at 1620 W. 7700 South in West Jordan.
An elderly woman was asleep inside. A neighbor saw the flames coming from the garage and helped the woman get out.
When crews arrived, the flames were small, but low-lying thick smoke had surrounded the house.
Capt. Rodger Broome/West Jordan Fire Dept.: "There was a lot of smoke. The smoke just hung here in the area. It was very hard to see. Visibility was bad on the road. It was quite dangerous when we first arrived."
Additional engines and firefighters were called to this fire, not because of its size, but because of high overnight temperatures.
Authorities didn't want crews overheating in their gear, so they called for back-up to make sure no one worked too long in the heat.
It took firefighters nearly an hour to control the fire. No one was hurt.
That fire started in the garage but the cause is also unknown, this morning.
×
Most recent Utah stories