Estimated read time: 2-3 minutes
This archived news story is available only for your personal, non-commercial use. Information in the story may be outdated or superseded by additional information. Reading or replaying the story in its archived form does not constitute a republication of the story.
Brooke Walker ReportingA popular European sport has come to Utah. Some describe it as skiing without the snow, or the skis. It's called "Nordic walking." It combines cross-country skiing and power walking.
We caught up with some local "Nordic walkers" who showed us just what this athletic arrangement is all about.
"It's really very easy. All you do is plant the pole and push."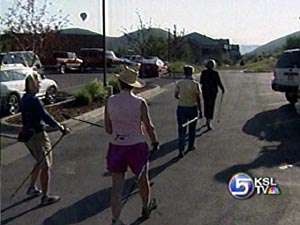 You could say the sport of Nordic walking is really picking up speed here in Utah. A class is offered at White Pine Touring in Park City, one of the first Nordic walking centers in the country. After some pre-trek stretching, the participants hit the trail.
Kimberly Sidorik, Nordic Walker: "It gives a good workout. You're out here with other people and you're learning a lot about how to hold the poles and the rhythm."
Nordic walking has experienced widespread popularity in Europe. Instructor Stacey Wooley says the sport has huge potential here in the US.
Stacey Wolley, Nordic walking instructor: "I'm surprised it hasn't caught on more like wildfire. I'm kind of waiting for that to happen."
Nordic walking began in the 1930's by Finnish cross-country skiers who wanted to keep training through the summer season.
Stacey Wolley: "It's walking. It's walking with poles."
The "ingredients" are pretty simple -- a pair of shoes, a pair of poles, add what's known as the "swag"--an exaggerated hip movement to increase speed--and you're off!
Stacey Wolley: "You use 40% more muscles than hiking alone. And you burn up to 30% more calories with poles in your hand. It's an easy sport to pick up. Anyone can do it. It's fun, it's social, it's not intimidating like a lot of other sports."
If you want to try it out, the class in Park City happens every Wednesday morning, and it's free! Also, beginning in the fall, the Grand America Hotel will offer a Nordic walking class.
×
Most recent Utah stories