Estimated read time: 2-3 minutes
This archived news story is available only for your personal, non-commercial use. Information in the story may be outdated or superseded by additional information. Reading or replaying the story in its archived form does not constitute a republication of the story.
John Daley Reporting"When there is a piece of property that has this kind of significance. The community, the land owner, everyone recognized that the right thing to do is to preserve it."
A last-minute campaign is underway to save a piece of land in Emigration Canyon from development. The land has plenty of historic value. It was one of the last camp sites used by Mormon Pioneers before entering the Salt Lake Valley.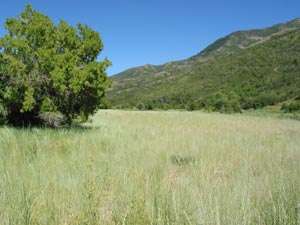 Perkins Flat is the last large piece of open space along the creek in Emigration Canyon. It was one of the last camps on the Mormon Pioneer Trail, and now there's one last chance to preserve it.
It's been described as a jewel in the heart Emigration Canyon--the last undeveloped, undisturbed creek-side meadow here. For years, advocate Wendy Fisher has appealed to a love of nature and posterity to protect Utah's open spaces, but Perkins Flat has something most properties cannot boast, a unique historical pedigree.
Wendy Fisher, Utah Open Lands: "They camped most likely in this site, actually on this day in 1847."
Emigration Canyon has a rich history and Perkins Flat is central to that. It was one of the final camps for Mormon Pioneers before entering the valley in 1847 and has hosted horseback riding, an ice rink, and a baseball diamond over the years.
But the 190-acre parcel was in the crosshairs for new construction for a mixed commercial/residential development. One deal to protect it fell through, then conservationists and developers tried again and now have a deal, if enough money can be raised.
The property's owner, MSI Co., issued a statement saying, "We're pleased to acknowledge the transaction for the gift/sale of land in Emigration Canyon to Utah Open Lands for the benefit of the public. We hope all goes well with the final steps to complete the transaction."
Salt Lake County is pledging 400-thousand dollars in brand new open space money to make it happen.
Jenny Wilson, (D) Member, Salt Lake County Council: "I think that this is an absolutely amazing piece of property and the county council and the open space committee agreed and we're one step closer in seeing this space right here preserved and that's exciting."
Wendy Fisher, Utah Open Lands: "To think that this is still open and undeveloped after all of these years, it has all the significance that it does, it would really be a shame if it were developed."
Now the group is turning to the community for help. Utah Open Lands needs to raise 350-thousand dollars to complete the deal. They're requesting money from the state's LeRay McAllister fund. If that fails they'll need to raise 750-thousand dollars. But the clock is ticking, the deadline is in 60 days.
×
Most recent Utah stories