Estimated read time: 5-6 minutes
This archived news story is available only for your personal, non-commercial use. Information in the story may be outdated or superseded by additional information. Reading or replaying the story in its archived form does not constitute a republication of the story.
ST. GEORGE, Utah (AP) -- A second wave of home foreclosures is sweeping across St. George, among the fastest-growing U.S. metropolitan regions, with banks unloading properties seized from investors onto the market, driving down other homeowners' values.
It's trouble for young Utah couples like Bradley and Kirsten McArthur, who because of a layoff found themselves with a mortgage they couldn't afford and a house they couldn't sell for enough to cover the balance on their loan.
After failing to find any buyers within $100,000 of what they owed, their lender, U.S. Bank, eventually accepted a short sale of $140,000 in satisfaction of their $240,000 mortgage. The move let them avoid being dragged through a foreclosure.
"We went up fast and came down hard," said Kirsten McArthur, 25, a stay-at-home mom with a 1-year-old boy.
In September 2005, after five years of marriage, the McArthurs feared that if they didn't buy a house, they'd never be able to afford one. Home prices had been steadily rising for more than a decade as retirees and others flocked to this redrock town in southern Utah known for its mild winters and easy access to national parks and wide-open public lands.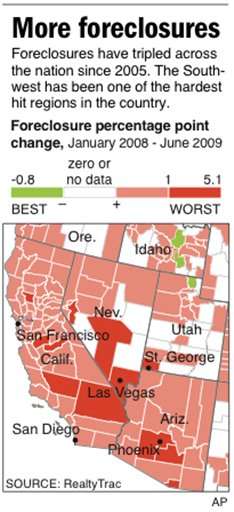 St. George has been among the top 10 fastest-growing U.S. metro areas every year since 2000, often taking the No. 2 spot but as of 2008 holding 10th place, according to the U.S. Census Bureau.
The McArthurs found a city rambler for $200,000. Before long, they refinanced for a larger, interest-only mortgage to make home improvements.
Then Bradley, 28, lost his job in February as a warehouse foreman for an electric-supply company. Suddenly, the $1,500 monthly payment became a daunting expense. And with home values plunging, the couple couldn't sell the house to cover the $240,000 they owed.
Over a table at a pizza restaurant where Bradley McArthur still holds a second job as a night manager, he said his prospects for more rewarding employment were nil. The region's economy was built on small business, tourism, construction and real-estate development, but little manufacturing. SkyWest Airlines Inc., a college and Intermountain Healthcare are among the few major employers.
The job market is "horrible," McArthur said. "There's nothing. Employers here are still downsizing."
The McArthurs, like others in a Mormon culture that encourages early marriages and big families, believe they bought their house at the wrong time, paying too much just before the crash. They left for a cheaper apartment to avoid the stress of possible eviction.
The foreclosure rate in Washington County -- which takes in the sprawl of St. George -- is 4 percent, twice that of any other part of Utah.
Investors, some who bought properties sight unseen, helped drive the market upward and lurk behind a fair share of the foreclosures.
Three out of four of the county's real-estate sales are foreclosure listings or short sales, said Alan Carter, owner of Southern Utah Title.
"Banks are throwing them out on the market at cheap prices," he said.
The ripple effect drives down the values of other homes like the McArthur's. Sales are picking up, driven by bargains, but prices remain depressed.
Carter said the inventory of homes in Washington County has dropped by two-thirds to 2,200 since February 2008 at the height of the real-estate crunch.
Expensive new homes around St. George are commanding the biggest discounts.
Carter told of one builder forced by his bank to surrender a $2.8 million property that wasn't selling and had plunged in value to $800,000.
"I bought it," said Carter, who plans to move into the 6,400-square-foot house on a high redrock ledge overlooking spectacular Snow Canyon. "It has a $24,000 refrigerator and two Bosch dishwashers. It's just over the top."
Others are in no position to take advantage of real-estate deals -- they're on the losing end of the foreclosure problem.
"Most people bought a home and milked it like a cash cow -- it was the money culture, the Franklin Squires program of instant equity," Carter said, referring to a Utah real-estate company at the center of a Ponzi scheme indictment.
"Entitlement and overspending at all levels from consumers to the federal government was the cause of this disaster," Carter said. "The government sponsored ways for people to live beyond their means because that's the way they do it."
Jeremy Larkin, a 34-year-old agent for the Larkin Group at Keller Williams, runs foreclosure bus tours. He described the mindset of the real-estate boom: "I'm young and married and all I want is 2,500 square feet, granite, all the cabinets and a three-car garage."
It couldn't last forever. "Now there's hell to pay," he said.
Some banks are offering "cash-for-keys" -- paying people in default to leave their homes quickly instead of dragging out an eviction.
"I showed up at their door and said, 'You don't own this house anymore,"' Larkin said. "It was cordial."
The unidentified couple -- the husband lost a job to a disability -- readily agreed to vacate their house in two weeks for $2,300. They went back to South Dakota.
Some of the new housing developments around St. George, meanwhile, have been stopped in their tracks.
Ten miles north of St. George, Roland "Rollie" Walker bought up 2,400 acres of prime land near Sand Hollow State Park, hired some of the best designers and architects and promised a European-style community of as many as 10,423 housing units.
Nearly four square miles in a redrock amphitheater, Elim Valley has been partly laid out with roads, utilities, sidewalks and street lights. But three years later, only one house in a forlorn plat of streets has been built. The sales office sees an average of one prospect a day.
Walker says he's managed to keep his creditors at bay. Last winter, they were posting foreclosures notices on his land. Now he's spending all his time on creative financing to keep the plan afloat.
"Things are getting better with time. We're survivors," said a determined Walker, chief executive of McNeil Development, Idaho Falls, Idaho.
"The master plan is the biggest attraction -- it isn't just lots. Everybody's better off staying with me than taking ground back," Walker said.
(Copyright 2009 by The Associated Press. All Rights Reserved.)
×
Most recent Utah stories