Estimated read time: 6-7 minutes
This archived news story is available only for your personal, non-commercial use. Information in the story may be outdated or superseded by additional information. Reading or replaying the story in its archived form does not constitute a republication of the story.
(Photos courtesy BYU Athletics)
The first practice of camp is in the books, and let's start with a report on who from the 105-man roster was not on the field when they hit the gridiron on a perfect day, weather-wise.
Absences:
LB Matt Bauman (brother's wedding)
WR Rhen Brown (his own wedding)
OL Jesse Taufi (academics)
RB Manase Tonga (academics)
LB Jadon Wagner (mononucleosis)
--
In addition, NT Rick Wolfley has decided to leave the program, and Bronco Mendenhall addressed that departure and much, much more in comments you can hear by clicking his audio link in the "Cougar Cuts" box to the right. Bronco's post-practice comments are always a "must-listen," since a great deal of what he says fails to make it into my written summaries.
*******
S Andrew Rich was in uniform, but not participating, due to a stomach sickness.
*******
As I mentioned earlier, the players ran to the "Y" to start the day. WR McKay Jacobson was first up, followed by fellow wideouts Matt Marshall and Stephen Covey. Listen to DE Jan Jorgensen's interview for some funny stuff about how much he hates the "Y" run--it's at the tail end of his interview.
*******
The freshmen and transfers were the first on the field at 3:30--with 31 newcomers comprised of 16 on offense and 15 on defense/special teams.
Speaking of special teams, they were also out early.
Mitch Payne and Riley Stephenson were the placekickers, Stephenson and Tyler Holt the punters.
The deep snapper for both place kicks and punts will be John Pace, backed up by LB Coleby Clawson. The first and second-string holders are WRs Matt Marshall and B.J. Peterson.
*******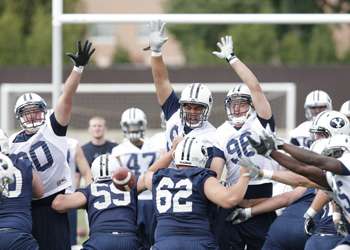 Field goal work came early in the session, and there was not much notable, other than Mitch Payne's relative struggles from long distance. As I've written earlier, he's only 4/8 outside 40 yards for his career, so BYU is still looking for some long leg reliability. Both Payne and Stephenson had kicks either blocked or deflected. Payne's kicks were higher, while Stephenson's were lower drivers.
*******
Among the most notable developments of day one was the inclusion of sideline headsets for the offensive coaches. For the first time ever at the practice field, Offensive Coordinator Robert Anae was overlooking practice from the second-floor balcony during the "Team" session, calling plays. Coaches Patrick Higgins and Brandon Doman wore headsets on the field.
*******
I interviewed Coach Anae briefly after practice and he addressed the change, along with the addition of play-calling wristbands for the other offensive skill players besides quarterback--another new development.
You can hear the Anae interview, along with a McKay Jacobson conversation, by clicking on their links above.
*******
Other quick impressions before I get to the Day 1 depth chart:
-It was great to see the Cougars get through the first day without any major injuries. DB Garrett Nicholson rung his bell on some equipment during a back-pedal drill, causing him to miss some "Skelly" and "Team" rotations, but other than that, Bronco says the five minor nicks picked up today were just that--minor, and not newsworthy.
-The new BYU wideouts are impressive-looking standing still, and look even better making plays. Brett Thompson, Mitch Mathews and Cody Hoffman all had their moments today, and all will push for playing time immediately. I talked with Coach Higgins after practice (I'll interview him Monday for "Cougar Tracks"), and he says if the new guys are "college ready," they will see the field.
-Punt returners today (not "live") were O'Neill Chambers, McKay Jacobson, Garrett Nicholson, and walk-on WR J.D. Falslev (who, by the way, comes highly recommended by none other than Nate Meikle).
-Not a lot to report from the practice-ending "Team" session, other than a big pass-and-run play from Max Hall to O'Neill Chambers to more or less end the session. It would have been a touchdown, but was whistled down on first contact at the two yard-line.
-QB Riley Nelson took third-string snaps, but every time I looked up, it was either Hall or Brenden Gaskins under center. By the way, Gaskins was in a green #10 jersey, not his #16, because of a practice jersey mishap.
-CB Robbie Buckner looked very good today. I remember him being a standout as a true freshman, when he ended up redshirting. He is giving nothing up to the JUCO transfer corners at that spot.
*******
Okay, here's the way depth looked on Day 1:
OFFENSE
LT: Matt Reynolds, Stetson Tenney
LG: Jason Speredon, Ryan Freeman
C: R.J. Willing, Marco Thorson
RG: Terence Brown, Houston Reynolds
RT: Nick Alletto, Braden Hansen
--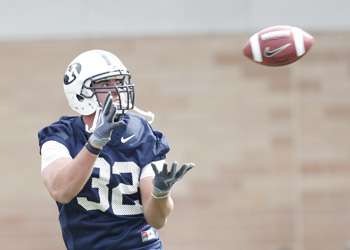 TE: Dennis Pitta, Andrew George, Braden Brown, Mike Muehlmann
WR (X): O'Neill Chambers, Spencer Hafoka, Mitch Mathews, Cody Hoffman
WR (Z): McKay Jacobson, Luke Ashworth, Brett Thompson, B.J. Peterson
Note: Jacobson, Ashworth and Thompson in particular should be considered able to play both X and Z. Indeed, all receivers are trained to play either position, depending on the strength of the formation and play called. However, Chambers is the one receiver who will most always be lined up at X.
WR (H): Matt Marshall, Stephen Covey (yes, they are "H"s, according to Coach Higgins)
TB: Harvey Unga, J.J. DiLuigi, Malosi Te'o, Bryan Kariya
FB: (note: Manase Tonga assumes the #1 spot if and when he arrives. In his absence, depth is really more of a guess more than set in stone, based on what I saw today) Tucker Lamb, Anthony Heimuli, Mike Hague, Peni Maka'afi.
QB: Max Hall, Brenden Gaskins, Riley Nelson
*******
DEFENSE
LE: Brett Denney, Matt Putnam, Steven Fisher
NT: Russell Tialavea, Tevita Hola, Romney Fuga
RE: Jan Jorgensen, Vic So'oto, Matt Peterson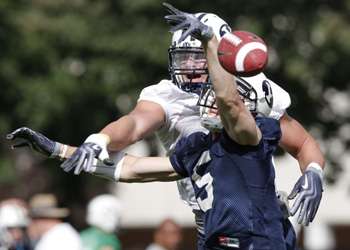 SLB: Jordan Pendleton, Grant Nelson, Jameson Frazier
MLB: (note: Matt Bauman is #1, but was absent today) Brandon Ogletree, Jeff Bell, Shane Hunter
BLB: Terrance Hooks, Shawn Doman, Dan Van Sweden
WLB: Coleby Clawson, Jordan Atkinson, Chase Hansen/Jordan Winger
FC: Robbie Buckner, Brian Logan, Corby Eason
BC: Brandon Bradley, Lee Aguirre, Steven Thomas
Kat: (note: Andrew Rich is #1, but was ill today) Shiloah Te'o, Jray Galea'i, Carter Mees
Free: Scott Johnson, Travis Uale, Craig Bills
*******
While there are always double-numbers at camp, they are either blue/white or blue/green (QB) or white/green, but never blue/blue or white/white--until this year. There are two defensive players wearing the same number 18 right now: LB Richard Wilson and S Crag Bills.
*******
The team will be back out on the field Monday afternoon, following the same timetable: newcomers at 3:30pm, veterans at 4:00pm. Check back Monday evening for my next report.
*******
Hoops note: BYU's Jonathan Tavernari scored six points on 3/5 shooting, as Brazil captured the title at the Super 4 tourney in Rio de Janeiro tonight, with a 95-67 win over Australia. JT added three rebounds and two assists in more than 23 minutes of play.
The Aussies had a roster including former Utah players Luke Nevill (3 pts) and Steven Weigh (2 pts).
*******
×
Photos
Most recent Sports stories