Estimated read time: 2-3 minutes
This archived news story is available only for your personal, non-commercial use. Information in the story may be outdated or superseded by additional information. Reading or replaying the story in its archived form does not constitute a republication of the story.
PARK CITY -- Dozens of veterans are up in Park City for a week-long retreat, and they all have a few things in common. They're all women, and they all suffer from post-traumatic stress disorder.
It's called Project Odyssey. Women back from war are invited to an outdoor retreat to meet others who are also dealing with the memories of war and dealing P.T.S.D.
It can be intense for the women, but it's also a lot of fun!
These women are in Park City to learn how to breath again and relax.
Veteran Erika Vandenberg said, "In Iraq and Afghanistan you were on alert all the time. You didn't know who was your friend or enemy, so you were always on alert.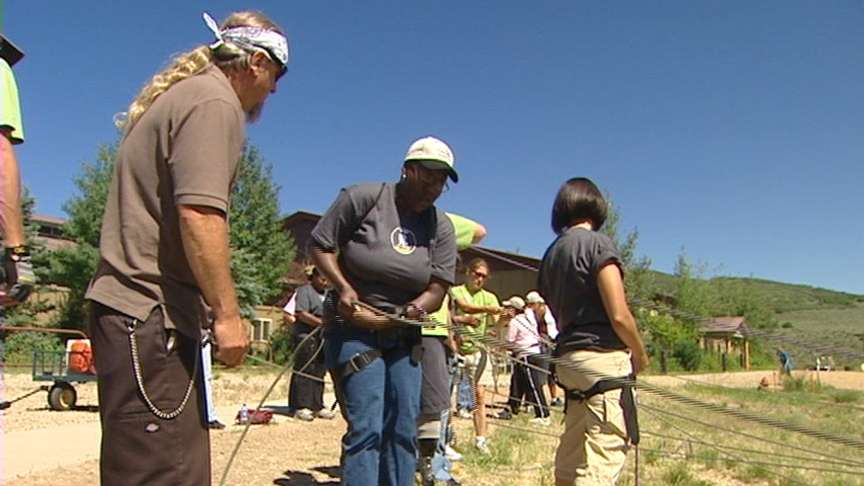 These women can't sleep, they're irritable, and they've shut people out.

"Anxiety around people, being in crowd, I still have issues with that," Vandenberg said.

They're here with Project Odyssey, funded by Wounded Warrior Project -- a non-profit organization, lead by other veterans.

**What is the Wounded Warrior Project**![](http://media.bonnint.net/slc/1278/127892/12789248.jpg)

The Wounded Warrior Project is a private organization aimed to *"honor and empower wounded warriors"* of the United States Armed Forces. It raises awareness and enlists the public's help for the needs of severely injured service men and women. It provides programs and services for injured service members and provides opportunities for them to assist each other. It is also active in the legislative process, lobbying Congress for the benefit of veterans.

Nancy Schiliro, with the Wounded Warrior Project, said, "In 2005, I was injured in Iraq myself. I ended up losing my right eye."

This is the second all-female retreat.

"It's known males go to war, males come home, but what about the females? Sometimes they get forgotten about," Schiliro said.

The women participate in team-building exercises, learning how to trust and cope with civilian life again, now that they are out of the military.

"Being in the Marine Corp. for six years does a lot to you," said veteran Savera Rodriquez. "You have to hide a lot of emotions and feelings."

She served nearly four years in Iraq. She said the retreat is helping her.

"You get together and talk and cry, and nobody's going to say anything," she said. "You know you're not alone."

This retreat is a big step for Rodriquez and the other women who all want the lives they had before they left for war.

The women come from all over the country. All of them have served in Iraq or Afghanistan, some both, and some on multiple tours.

E-mail: abutterfield@ksl.com

×
Related links
Most recent Utah stories