Estimated read time: 2-3 minutes
This archived news story is available only for your personal, non-commercial use. Information in the story may be outdated or superseded by additional information. Reading or replaying the story in its archived form does not constitute a republication of the story.
Gene Kennedy reportingThey call it Black Friday, a day when stores around the country offer big sales to "go in the black". At one location early this morning, it became a mix of sales and scuffles.
People are getting to some of these stores earlier and earlier to get their piece of the deal. Case in point: Last night's midnight shopping spree at Fashion Place Mall. By 11 o'clock last night, lines stretched around the mall.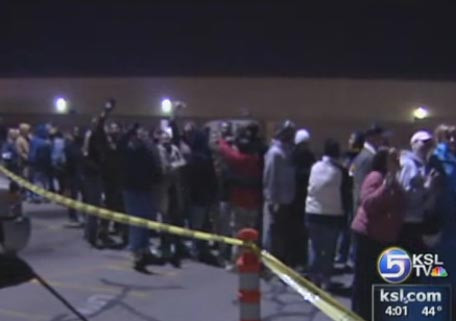 "My hands are numb. I can't feel them but it's all fun."
"You know I think it's just sort of fun, great to get out, be part of the crowd."
"For all the good sales."
"Hopefully to get a good discount or this would not be worth it."
Fashion Place Mall opened its doors at 12:01 this morning, earlier than ever before. People screamed as they ran to get into the mall. There were a few problems at the doors as people tried to push their way in. We saw one woman who had been trampled limp away in tears.
Even store owners were a little overwhelmed.
Brenda Upright/ Manager, V Chocolates: "This is insane. I had no idea. It looks like the biggest rock concert in the world just let out and everyone is at the mall to celebrate. I can't even believe this. I can't wait to go home. I'm scared."
When we talked to Murray police earlier this morning, they'd already been called out nine times. A couple of arrests were made. There were fights, shoplifters and even a few intoxicated people.
The crowds were so big in fact, the fire marshal walked through to make sure exits were clear, and the mall wasn't at capacity.
There have been several comments on ksl.com about what happened at Fashion Place Mall last night. One person who says they were there writes:
"How completely ridiculous that was last night....Weird thing was nobody was getting into the stores for safety or breathing room. Total chaos, people were not in their right minds. I was embarrassed to be involved."
Not everyone at the mall was there to shop. Some people we talked to say they were just there to watch the craziness.
×
Related Links