Estimated read time: 2-3 minutes
This archived news story is available only for your personal, non-commercial use. Information in the story may be outdated or superseded by additional information. Reading or replaying the story in its archived form does not constitute a republication of the story.
SALT LAKE CITY -- A plan to reduce the risks of catastrophic wildfire in City Creek Canyon drew plenty of heat from the public Monday night.
Wildland fire experts say the buildup of fuels along the road in the canyon creates a public safety threat that keeps getting worse; they advise selective thinning. But regular users of the canyon say: "Slow down!" They're worried about wildlife and plant life.
City Creek Canyon is an urban sanctuary for people in search of a wilderness escape minutes from center of the city. Runners and riders make it a regular route, and elk graze the hillside.
"It's just such a unique thing to have that right next to our city, and we just need to be careful what we do with it," said Scott Williams, a Utah resident who frequents the canyon.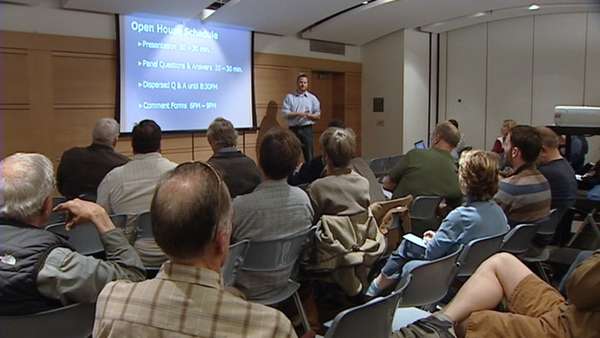 Decades of overgrowth and fire suppression led to a dangerous buildup of fuels. The city talked to residents Monday night about plans to thin the fuels up to 100 feet from the road, starting on the north and west side.
It's not a clear cut, but they'll use chain saws and chippers. It's called a shaded fuel break.
"A shaded fuel break is a way to mitigate fires coming off the road as well as create islands of safety on the way down the canyon," said Patrick Nelson, watershed supervisor for Salt Lake City.
The city needs to protect the watershed and safeguard the road for firefighters. A fire last summer burned 130 acres a couple miles up the canyon.
The city wants to get the job done soon before the trees leaf out and make the job more challenging. "Also, the crews that are doing it would be out fighting fires if we wait too long," Nelson said.
Canyon lovers fear irreparable damage. "That place is very dangerous in a fire. I don't think there's any question about that. But I don't think that what they're proposing solves the problem," Utahn Steve Pace said.
They worry about wildlife and plant diversity. At Monday's meeting, they passed a petition to study the issues for a year. "There hasn't been adequate input from the standpoint of the natural beauty of the canyon, how to minimize the impact; and I just think they need to slow down," Utahn Scott Williams said.
"When we finally get a fire in there, it's going to be a really big one. So, we're trying to mitigate that ultimately huge fire that comes in there," Nelson said.
The Salt Lake City Department of Public Utilities wanted to hear final concerns before starting up the chainsaws. They'll take the comments into consideration and make a decision on how and when to proceed in the next week to 10 days.
E-mail: jboal@ksl.com
×
Most recent Utah stories