Estimated read time: 2-3 minutes
This archived news story is available only for your personal, non-commercial use. Information in the story may be outdated or superseded by additional information. Reading or replaying the story in its archived form does not constitute a republication of the story.
SALT LAKE CITY -- From ugly to OK: that's the trend for Utah's vital mountain snowpack. A quick look at the mountains will often give you a good picture of what's going on.
Right now, there's a decent amount of snow up there for early April, which is reversal of the trend from just a few weeks ago. The tipping point came March 22. That's when a warm, dry trend, which started in early March, turned and Utah got smacked with a series of storms. Snowpack, which had been melting off early, turned a corner and started building again, especially in northern Utah.
Randy Julander, with the Utah Snow Survey said, "We would have seen runoff probably in the 60 to 70 percent range. We're looking at more 80 to 95 percent now. Million-dollar storms coming in, and we've got another one tomorrow."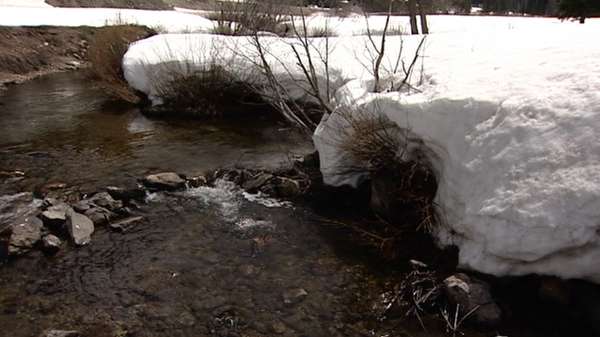 The change means spring runoff and reservoir storage, both of which are critical for water supply, should be near normal.
Still water watchers are urging conservation. In Salt Lake, for example, the message seems to have stuck with consumption down about 12 percent since 2000.
Stephanie Duer, Salt Lake City Water Conservation coordinator, asked. "Do we have more to do? Absolutely. Could we be more efficient? Yes. Can we reduce more waste? Yes. But as a community, we have trended in the right direction and we need to continue that."
Water managers are increasingly turning a cautious eye to what they say are clear climate trends. Winter conditions, snow and cold weather are starting later and ending earlier than normal. Most of the long-range scientific projections for our region are for hotter and drier conditions.
Jeff Niermeyer, director of the Salt Lake City Department of Public Utilities, asked, "Is that normal variation in weather that we're seeing or is it the leading edge of climate change and only time will tell?
In his opinion, it's the leading edge of a climate change.
As for this winter, it looks like we're not quite done yet. Another storm is on the way, spring is on hold and winter continues. That's a good thing for our water supply.
E-mail: jdaley@ksl.com
×
Most recent Utah stories