Estimated read time: 2-3 minutes
This archived news story is available only for your personal, non-commercial use. Information in the story may be outdated or superseded by additional information. Reading or replaying the story in its archived form does not constitute a republication of the story.
SALT LAKE COUNTY -- Early Thursday morning, the latest spring storm was already having an impact. As the day progressed, the snow piled up.
This storm is just what our reservoirs were hoping for, but it has made for very dangerous conditions in the backcountry.
Crews close canyon for avalanche control
Little Cottonwood Canyon closed for a period of time as avalanche crews worked on danger zones weighed down by 3 feet of powder that fell in just two days.
"It's fairly light snow, but the main problem is the wind," said Bruce Tremper, director of the Utah Avalanche Center.
Avalanche experts say the wind can deposit large amounts of snow on down-wind slopes at a rate 10 times more rapidly than snow falling from the sky. "That means that natural avalanches are coming down on their own, and human-triggered avalanches are almost certain on a day like today," Tremper said.
If you're planning to be in the backcountry, Tremper has some advice: "Just stay off of and out from underneath any slope steeper than 30 degrees. Stay on gentle terrain and well underneath avalanche run outs, and you should be fine."
Storm is good news for Utah's water supply
Though the avalanche danger in Utah is high, hydrologist Brian McInerney, with the National Weather Service, said we really need this water. He says the recent storms have been critical.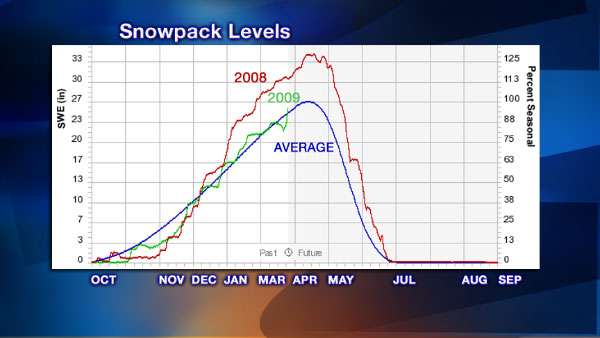 Weather patterns several weeks ago looked as if we were headed to snowpack levels in the 50 to 60 percent range. "We had temperatures that were 10 to 15 degrees above normal. We had an absence of precipitation, and we had winds that were decimating the snow pack," McInerney said.
Now there's a change for the better. A graph shows snowpack levels that supply water to the Salt Lake area: blue is average; red is last year; green is this year. It's easy to see recent storms brought us back much closer to normal.
"March is definitely a pivotal month, and it can make or break depending on how it goes," McInerney said
Storm knocks out power in Riverton
Residents in Riverton went without power Thursday morning. Rocky Mountain Power says a power pole near 12400 South and 2700 West caught fire, and the damage caused the outage. They say the cause was likely due to weather.
While the outage may have been an inconvenience to most, the students we spoke to at Riverton High school didn't seem to mind it.
Brittany Skinner said, "We left to go get ready, because the powers out, and were in the gym and it's all dark."
Kelsey Decker said, "It's fun, it's an adventure."
And Kenna Martak told us, "It's kinda cool actually."
Riverton High School wasn't alone in the outage. About 1,800 other homes and business lost power around 5:45 a.m., but it was restored by 11 a.m.
------
Story compiled with contributions from Whit Johnson and Shara Park.
×
Related links
Related stories
Most recent Utah stories