Estimated read time: 3-4 minutes
This archived news story is available only for your personal, non-commercial use. Information in the story may be outdated or superseded by additional information. Reading or replaying the story in its archived form does not constitute a republication of the story.
NORTHERN UTAH -- Slide-offs and rollovers; Mother Nature once again reminded drivers Spring can be slick too.
The Utah Highway Patrol responded to several accidents across the Wasatch Front. Among them, a rollover involving one of our colleagues at KSL 5 News.
Slick roads send KSL 5 News truck crashing down an embankment
KSL 5 covers the news, but rarely do we ever become the news. That changed Wednesday when one of our colleagues rolled his truck on the slick roads of Provo Canyon.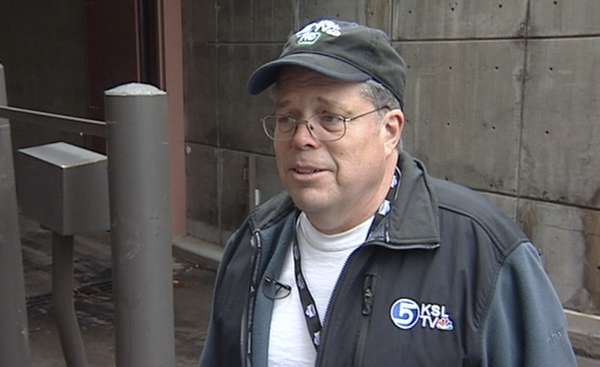 KSL engineer Dave Lindsay is OK, but he wants people to know just how quickly accidents can happen even to the most cautious drivers.
"I've driven all my life. I'm always the designated snow driver. I've had a lot of experience, and I'm very comfortable driving," Lindsay said.
As part of his job at KSL, Lindsay sits behind the wheel of the satellite truck, driving as many as 1,000 miles a week to cover the news. But this morning on the way to a story, he became the story.
"We were driving along and we came up over the rise, and it changed right there," Lindsay said.
Without notice, road conditions on a stretch of Provo Canyon went from good to dangerous. "The highway patrolman even said for 150 yards there, it was bad road, and it was just glass," Lindsay said.
The black ice got the best of the truck. "I just remember going off to the side. As I skeetered across the road, there was nothing stopping me and I could just see I was going toward the river," Lindsay said.
The truck hit the guardrail, then rolled down the cliff. Troopers say the guardrail slowed the truck down, keeping it from going into the river.
"Next thing I knew, I was hanging upside down ready to push the button on the seat belt, but I didn't know which way was down. I was that disoriented," Lindsay said.
Firefighters cut the windshield to get Lindsay out. "I felt like I was in suspended animation, sitting right there in that truck in the seat belt. I mean, it kept me right there where I was supposed to be," he said.
This was Lindsay's first crash. He says even the most experienced drivers need to be on guard. "I always wonder why cops keep saying, 'Slow down.' I wasn't going very fast, and it hit me just out of the blue: I was in trouble,'" he said.
Lindsay is sore and a little bruised. He was more concerned about the truck than himself. Our engineers will salvage what they can, and hopefully have it on the road soon.
Vehicles crash on Highway 40 and I-15
One of the worst accidents happened Wednesday morning on U.S. Highway 40. A tanker truck pulling doubles was on the flyover bridge heading westbound onto I-80 when it lost control.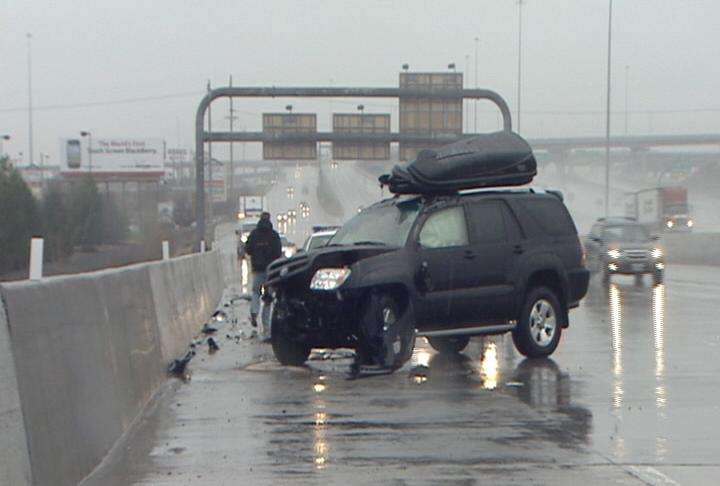 The truck's second trailer hit the concrete barrier and overturned. About 55 gallons of crude oil spilled onto the road.
The driver was not injured but was cited for not wearing a seat belt and for going too fast for the conditions.
Utah Highway Patrol Trooper Amy Fallows said, "When we get weather like this people still drive the same, I'm sure we'll see our fair share of crashes."
The scene was cleared around 12:45 p.m.
Another accident spread debris all over Interstate 15 near 1800 South. "[It] started to fishtail with the rain and everything and hydroplaned, hit the wall, rolled twice and then came to rest on all four wheels again," Fallows explained.
Throughout the morning, snow and slush made for some tough driving conditions from I-15 to Kimball Junction.
------
Story compiled with contributions from Sandra Yi and Whit Johnson.
×
Related links
Most recent Utah stories