Estimated read time: 2-3 minutes
This archived news story is available only for your personal, non-commercial use. Information in the story may be outdated or superseded by additional information. Reading or replaying the story in its archived form does not constitute a republication of the story.
SALT LAKE CITY -- About 100 protesters targeted the government's response to the economic crisis with a rally on Capitol Hill Friday. They're angry about what's been done to address the economic crisis and where things are heading. They called it the "Salt Lake Tea Party" in honor of the Revolutionary-era revolt.
David Kirkham is a small-business owner who runs Kirkham Motor Sports in Provo. He said, "America is the land of opportunity. But today, America is in a hole."
His wife Alisa said the event was organized in part to encourage government responsibility. She said conservatives needed to speak out. She said, "We don't like the idea of more taxes on the wealthier people because, frankly, nobody ever got a job from a poor person. And you know, my husband creates jobs for people."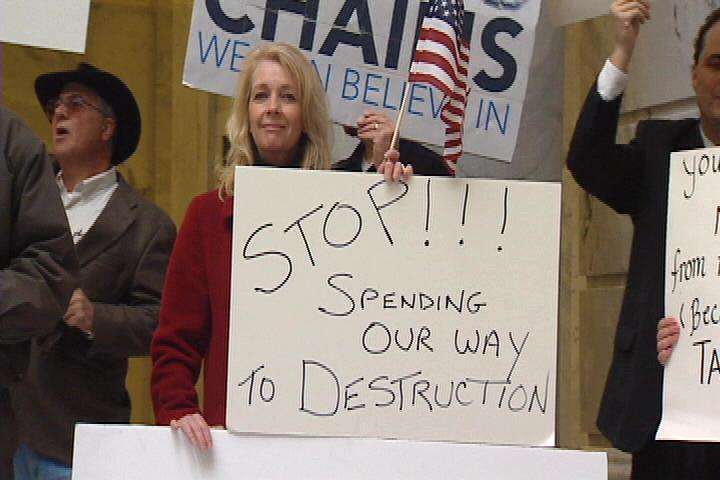 David Cindrich, an employee from Kirkham's, said America seems to be pouring money down a hole with no positive results. "The spending and the taxes, I don't know where they're getting these billions of dollars when we're already trillions of dollars in debt. And you know who this money is going to and what we're getting from it?"
Protests like this have been popping up around the country. Some call the Obama's Administration's efforts "socialism" and likened it to Eastern Europe under communism. "I'm afraid for my grandkids," said Farmington resident Pete Cannon. "Where will their money be? If they're still paying taxes on my debt, they're going to have a hard time pulling out of the hole."
"The bailouts that they were doing are extortion," claimed Salt Lake City resident Edward Allan Buck. "They are extorting public money, OK, to bail out corporations and CEOs, and that's not where the money belongs."
Most people at the capitol said they were at a loss about exactly what to do about the current crisis. Many said they simply were frustrated and afraid.
E-mail: jdaley@ksl.com
×
Most recent Utah stories