Estimated read time: 2-3 minutes
This archived news story is available only for your personal, non-commercial use. Information in the story may be outdated or superseded by additional information. Reading or replaying the story in its archived form does not constitute a republication of the story.
Students at City Academy are studying and producing biodiesel. In addition to that, they're filling and running their own school bus with the class-made fuel.
It's a one-of-a-kind project in Utah and takes hands-on learning to a whole new level. The biodiesel is collected, tested and cleaned almost completely produced by the students.
"It's actually really fun. The chemistry room gets a little bit like slippery," student Gabriela Murillo said.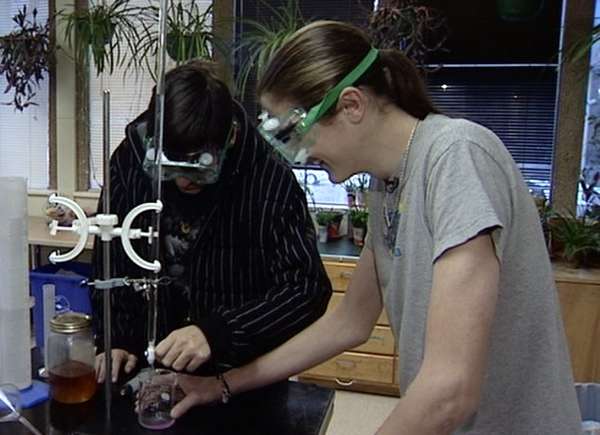 Chemistry teacher Shea Wickelson has been perfecting the technique over the past five years. A few lessons on the environment, pollution, how the fuel works, and the process begins. "For me, it's the only way that I would want to teach," Wickelson said.
First, students gather old cooking oil from local restaurants. Then, they determine which oil can and cannot be used.
"We want to find the least acidic oil because that will be the best for making biodiesel," student Tim Dalton explained.
From there, some washing and preparation. "This is just part of how we like to do curriculum. We like to have students engaged in real problem solving and hands-on learning," Wickelson said.
There are some limitations. For example, in the wintertime, when temperatures get really cold, the biodiesel actually gels. That means when they fill the bus with fuel, 50 percent of it has to be regular diesel.
But the rest of the year, the school's field trip vehicle, better known as the "Bio Bus," doesn't make one trip to the gas station.
"It's incredible. If this is what you're doing in high school, what could you be doing later on in life as a professional?" student Jamon Cline said.
The "Bio Bus" was purchased and retrofitted for better gas mileage through a series of grants and donations. City Academy says the students produce about 20 gallons of biodiesel each month.
E-mail: wjohnson@ksl.com
×
Related links
Most recent Utah stories