Estimated read time: 2-3 minutes
This archived news story is available only for your personal, non-commercial use. Information in the story may be outdated or superseded by additional information. Reading or replaying the story in its archived form does not constitute a republication of the story.
As we bounce back and forth between red and yellow in these inversion days, schools are learning some innovative ways to keep kids active and entertained during recess.
No tracker of air quality is more tuned in to the air-quality fluctuations right now than the schools.
"It's frustrating to have to live in that kind of environment where you can't go outside when you want to. On the other hand, maybe it forces us to be a little creative and do something different," said Larry Madden, director of the Salt Lake Center for Science Education charter school.
Though the sun shines outside, the air quality is just gray enough to make indoor activities more appealing. At the Madden's school, kids ride bikes indoors: It's actually a class which could prove very attractive for students forced to stay inside. While riding slowly, the kids hone their balance and pay close attention on how to maneuver a bike.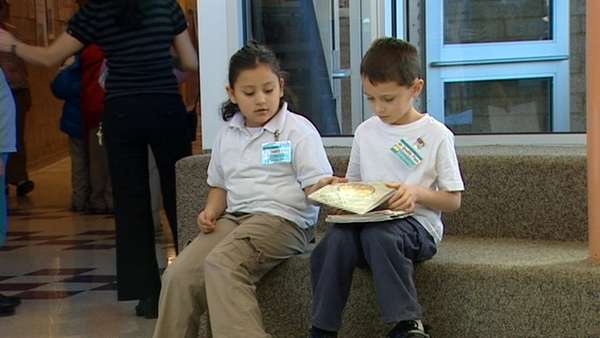 Meanwhile, Mountain View Elementary School in Salt Lake has a hard and fast rule: Once it's a red alert, even if it just barely crosses the threshold, kids do not go outside for recess.
Even though it was yellow in Salt Lake today, kids prone to asthma, like Sergio Castillo and Shelby Vincent, did not go outside.
"I always stop and breathe, and breathe, and breathe, and everything," Sergio said.
Shelby told us, "It hurts my lungs."
Shelby's mom, Stephanie, said, "On days like these, it doesn't matter what kind of controllers you're on or how much medication you take, it's still bad."
Kids with air-quality passes sat in the school's rotunda and read books, or went on supervised walks in the hallways to get some physical exercise. Most schools now have board games on hand in the event sour air should stifle recess days at a time.
With new research on the effects of even moderate air pollution, some parents want these air-quality passes for healthy kids as well, so they can stay indoors until the green returns.
E-mail: eyeates@ksl.com
×
Most recent Utah stories