Estimated read time: 2-3 minutes
This archived news story is available only for your personal, non-commercial use. Information in the story may be outdated or superseded by additional information. Reading or replaying the story in its archived form does not constitute a republication of the story.
Each year, the governor receives a detailed report on the state of the economy. As you would expect, this latest assessment isn't very rosy. The 228-page report confirms, yet again, that our economic recovery will be slow. But we may pull out of this faster than the rest of the nation.
When you hear Utah economists like Juliette Tennery, who is the chief economist for the Governor's Office of Planning and Budget, say, "We have stress in our housing market, which has lead to stress in our construction industry, and then lower wages, lower employment."
Followed by Gov. Jon Huntsman saying: "The environment that you've already heard from Mark and Juliette is a very bad one;" you know that the economic picture is bleak.
The 15-member Council of Economic Advisors predicts:
Our unemployment rate will increase to 5.5 percent this year and probably won't improve until next year.
Construction jobs were the hardest hit last year, and will see a 16.6 percent decline in 2009.
Retail sales may only increase by a percentage point this year.
Wages will go up a measly .1 percent, on average.
Despite those predictions, there is some good news. "We are recognized widely by the business community as being the most competitive state in America. So we've done what needs to be done to be competitive, we just need to keep that up," Huntsman said.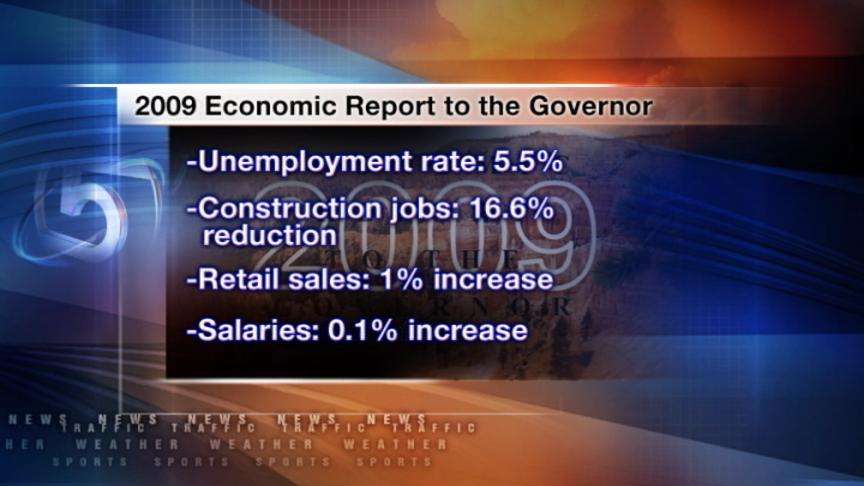 Utah has an attractive business reputation. New companies are expanding here all the time, and with our population growth, the fastest in the nation; and young demographic, the youngest in the nation, economists predict even more business expansion here, which ultimately will improve the employment picture.
Utah's economy is much more diverse now than it was decades ago, and experts say that plays a huge role in the year ahead. "Now, while this diversity right now certainly means that our economy is impacted by the national contraction -- we're certainly feeling it -- it also means that we should recover at a faster pace," Tennery said.
"We've got much to be grateful for, but certainly a lot of work ahead of us if we're going to stay in the game," Huntsman said.
Also according to this report, Utah's agriculture industry should not experience much of a downturn and our tourist industry will see a bit of a spike in the second half of the year. Bottom line in all of this: 2009 will be quite flat; look for improvement in 2010.
E-mail: kmccord@ksl.com
×
Most recent Utah stories