Estimated read time: 4-5 minutes
PROVO — BYU ran all over Stanford in a historic 35-26 win on the Farm and gashed the Cardinal front seven for 358 yards on the ground, which included 164 yards on 23 attempts from former Cal running back Chris Brooks.
Hinckley Ropati added 85 yards and a touchdown on nine carries, a 9.4 yards per carry average that buoyed the team's 7.2 yards per attempt on the ground.
"I'm happy with the way that Chris and Ropati ran the ball. They made some big plays," BYU coach Kalani Sitake said. "But credit to Stanford; they started to play tougher defense, made cleaner tackles, and it was kind of a battle towards the end."
But when the Cougars (7-5) needed a crucial finish on third and fourth down, particularly with 4 yards or less to go, they routinely came up short.
One play, in particular, stands out.
When the Cougars needed a critical conversion, facing a fourth-and-1 at the Stanford 21-yard line with a two touchdown lead with 7:15 left in the third quarter, the run game went stagnant.
Instead of lining up in a power formation or finding Brooks or Ropati to burrow behind the offensive line to reset the chains, the Cougars went to quarterback Jaren Hall, who ran for 69 yards and a touchdown.
The redshirt junior scrambled a bit after taking the snap, looked to throw once or twice, and finally scampered back just short of the line of scrimmage when Stanford's Alaka'i Gilman earned a tackle for loss.
Even worse, Hall came up limping on the play, hobbling off the field on a visibly distressed right ankle that drew him toward the medical staff on the sideline immediately. He did not return to the game, but it was precautionary, both he and Sitake said after the game.
"I think Jaren's going to be fine," Sitake said. "When we were looking at it coming back, it was going to be difficult for him to function at a high level.
"I feel good about him, and he feels good about coming back."
Hall said he "absolutely" will be available for the Cougars' upcoming bowl game, their 17th in the last 18 seasons.
Crisis averted. Backup quarterback Jacob Conover saw out the rest of the win, clinching the program's first win over Stanford while attempting just one pass. But the root of the concern remains.
BYU defensive coordinator and defensive line coach Ilaisa Tuiaki announced Sunday he was stepping down from the program, allowing Sitake to begin an immediate search for a full-time replacement coordinator. And while a defense that ranked in the bottom third of the Football Bowl Subdivision in both total yards allowed and scoring was part of the problem of the Cougars' 2022 campaign, it's hardly the only one.
BYU converted 6-of-9 third downs against Stanford (3-9), but for a group that only had one third down conversion early in the second quarter, the number seems striking. It's been tough sledding on third for these Cougars, who ranked No. 30 nationally with a .448 conversion percentage on third downs – a 65-of-145 mark that ranks just ahead of Air Force and right behind Eastern Michigan.
Fourth downs are even worse.
"We're trying a lot of different things," Sitake said. "Maybe simple is the way to go. Maybe we've overthought it a little bit.
"It's good to get some stuff on film, but we need to start converting those and flipping the conversion our way a bit. I'm not happy about that, but it's something to work on for next time."
It gets worse when looking at fourth-down conversions.
The Cougars rank 130th out of 131 teams in the FBS in fourth-down conversions, just 6-of-23 attempts on the year — one more than last-place Marshall, which is 5-of-20.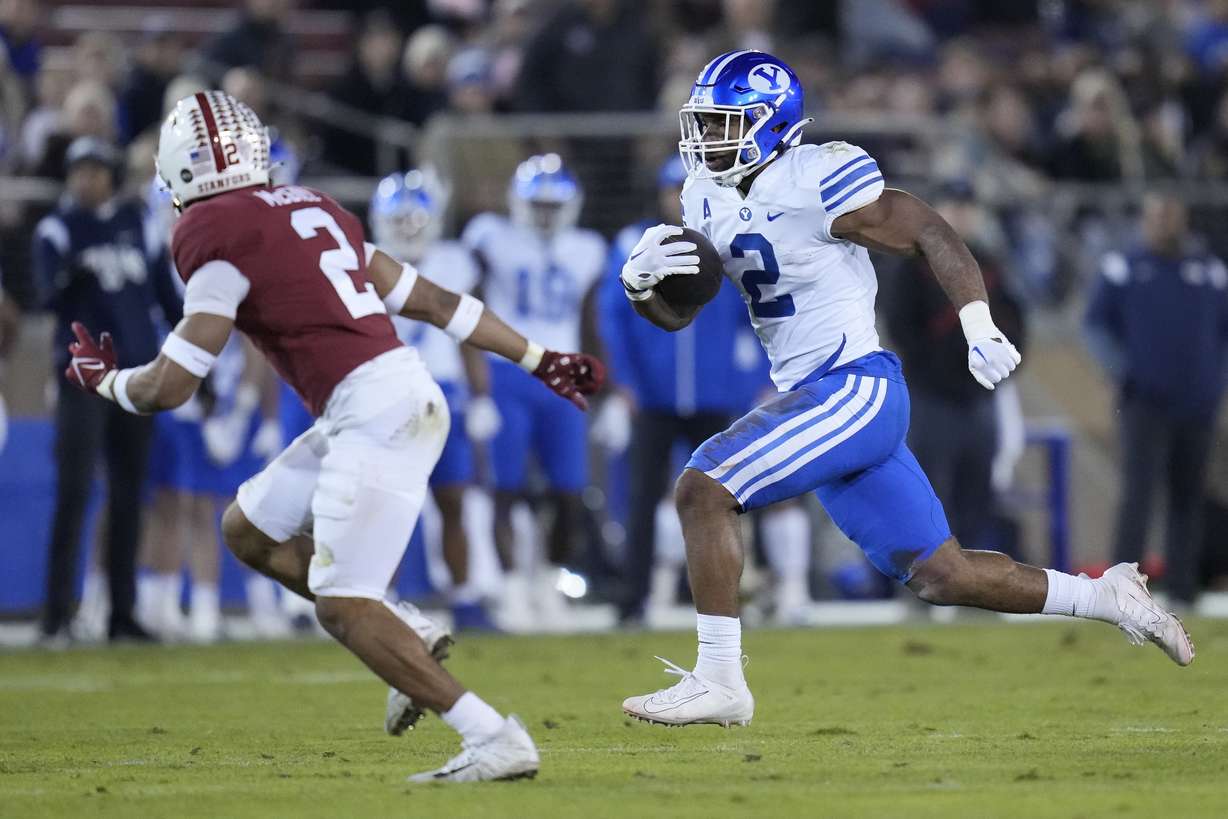 True, Sitake coaches like a riverboat gambler, rolling the dice and trusting his gut in heady situations. There's a degree of admiration to the quality. But more often than not, those rolls come up with snake eyes.
It's easy to second-guess play calling when fourth down goes wrong and the defense forces a turnover on downs. It's easy to see personnel that could be used in that situation, like former Stanford fullback Houston Heimuli or blocking tight end Carter Wheat, among others.
It's less easy to see the minutiae in the details of a short-yardage play, though, and that's where offensive tackle Blake Freeland took the blame (and credit, the rare times it worked).
"There are times when we just need to execute better, run blocking being one block away, one guy straining a little bit harder, blocking through tackles," said Freeland, a junior from Herriman who has accepted an invitation to the Reese's Senior Bowl at the end of the year but not formally decided if he will return to BYU next season. "It's just the little things.
"We've been trying different things," he added. "We've just got to get something to hit."
×
Most recent BYU Football stories