Estimated read time: 4-5 minutes
SALT LAKE CITY — While holiday sales deals seem to come earlier each year and shoppers increasingly turn to shopping online, many Utahns still opted for in-person Black Friday shopping.
Fernando Martinez and his wife traveled to Provo to visit their daughters for Thanksgiving, bringing along a shopping cart for the Black Friday deals.
The trio of women filled the shopping cart pretty quickly in the day, Martinez said.
"We do a lot of shopping since everything's a lot better price," he explained, adding that while the savings and deals hold great appeal, the true thrill of Black Friday shopping is in the experience.
"It's another time that we get to spend together. We go to these stores, check things out and buy stuff — but it's like a tradition. We like to go shopping and rather than sitting in front of a computer, we like to do it live."
In 2020, a record number of shoppers opted to shop online amid the COVID-19 pandemic. Holiday sales have continued to rise since the pandemic with the number of sales shattering records in 2021 over 2020 by rising 13.5%, according to the National Retail Federation. The federation predicts that despite inflation, sales will grow 6% to 8% over November and December sales in 2021.
Many of those sales are made online but approximately 32% of people still plan on shopping in person, according to a Drive Research study. While some shoppers opt for the convenience of online, many Utah shoppers on Friday leaned into the experience.
Among those shoppers was Sean Hammond.
"I just like the feel of going in store and like the busyness. It's kind of fun to go into the mall," he said.
Hammond — who shopped both online and in-person this year — was able to purchase an item that's been on his want list for a while.
"There was a corduroy jacket and I've been wanting it for a while, but it's always been kind of out of my price range. And I'd say it was now like 20 bucks. So I was like, 'Oh, I'll get that,'" he said.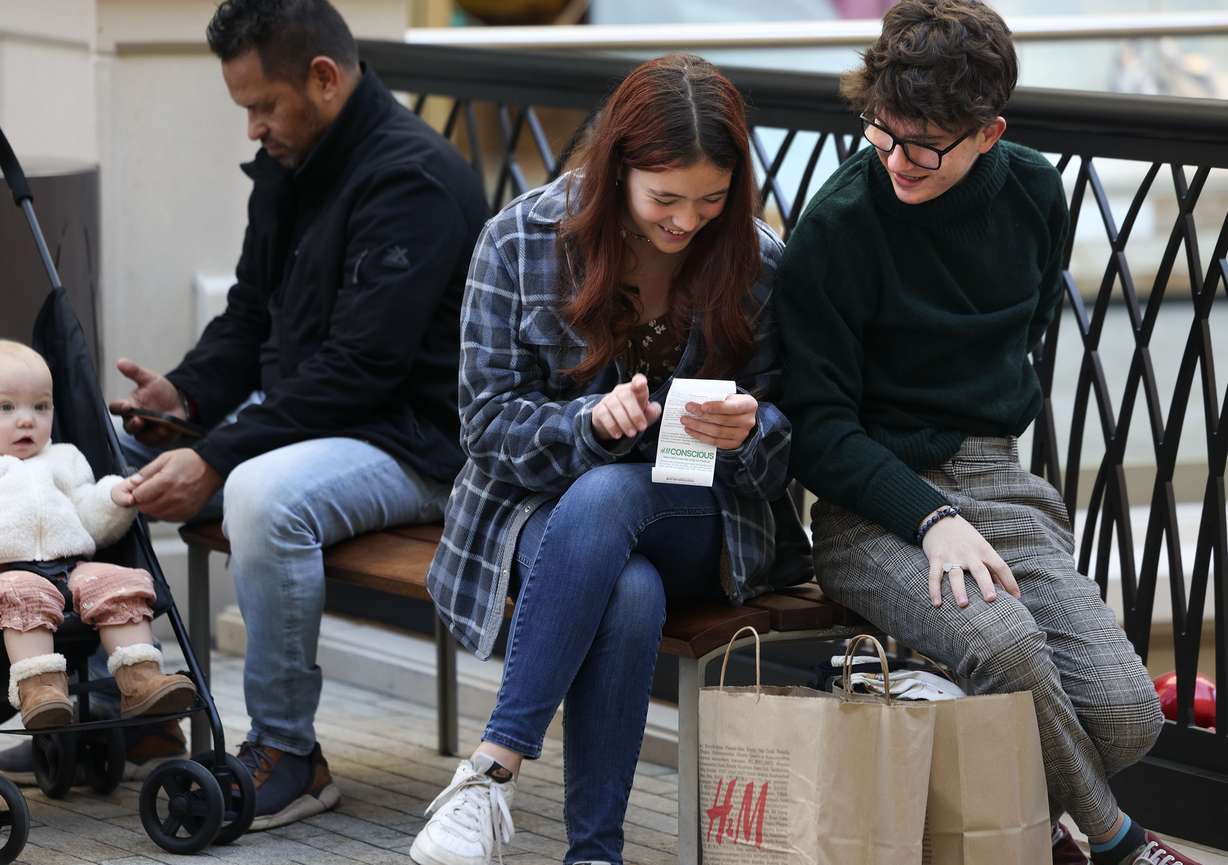 Other shoppers used the opportunity for getting a head start on their holiday shopping list.
"I went with my girlfriends from high school. We're in college now and we're just home for the weekend and so we decided that we'd all go out and shop together. And we're mostly just window shopping but looking for like clothes or gifts we can give to people," said Cami Delli Gatti.
"It's shifting back to ma and pa, it's shifting back to small business, because yes you can buy all this stuff online but you can't walk in and have that conversation with somebody," said Charles Prows, owner of the Nerd Store in Valley Fair Mall in West Valley City.
On this Black Friday there was a steady stream of customers filing into the Nerd Store looking for pop culture collectables, something it specializes in.
"We sell comics, we sell gaming cards, I do a little bit of video games, belts, apparel, basically anything pop culture related we try and carry it," said Prows.
Eighty percent of stores located in the Valley Fair Mall are locally owned, according to Casey Bulkey, general manager of the mall. It's one big reason the Nerd Store has found success.
"If you look around this mall, it is almost all local shops, there is very little cooperate stores which means it this mall is about this community, about West Valley, they want us local owners to succeed," Prows said.
Prows started the Nerd Store nine years ago at the mall. Since that time, it's weathered the pandemic, and now inflation. The store's earnings are up 10% to 15% compared the same time last year, according to Prows.
"The pandemic has caused a lot of people to shift their focus to internal hobbies, which is what we do," he said.
Prows also credits the store's success to loyal customers like Chris Margetts, who visited the store on Friday with his granddaughter Victoria.
"Were kind of having a pappa granddaughter date and we thought we would come into the mall today and see the decorations and we know the Nerd Store and try to come in here when we can," Margetts said.
Black Friday signals the start of the important holiday season for many retailers.
"Black Friday is in many ways the start of the holiday season for City Creek Center. We prepare for the holiday season year-round. We work on making the holiday magic all year," said Linda Wardell, general manager at City Creek.
"We are seeing the same tradition of families and friends shopping in large groups, lingering and enjoying the day. Many people start their downtown experiences at City Creek Center and this seems to be true again in 2022," Wardell added.
×
Photos
Most recent Business stories