Estimated read time: 5-6 minutes
SALT LAKE CITY — Close to 100 people, mostly Iranians living in Utah, gathered at Washington Square Park and marched through downtown on Saturday to protest the Iranian government and recent deaths in the country.
A man named Mohammad, who came to Utah from Iran in January to study at the University of Utah, said they are asking for the government to stop oppressing women, the right to their lives, and freedom from the government.
"We want women to be free, we want life, we want freedom. That's all we want," Mohammad said.
All of his family is in Iran, and he asked KSL.com to keep his last name out of this article to protect them. He said he has not been able to contact them for about two months because the internet is shut down in their country.
Regardless of the lack of internet, he said the people are still standing up, and this time he believes they are more united behind a revolution because they know they need a regime change. Although there are many ethnicities in Iran and the government has encouraged division, he said he believes the people are united right now — citing multiple Iranian ethnicities represented at the protest.
"The Islamic regime tried to separate us. ... We are all united to kick down this regime," Mohamad said. "We are all united because of 'women, life, freedom.'"
Mohammad said he was in Iran during Bloody November in 2019, when the government shut down the internet and killed 1,500 people over the span of three days.
Reuters reported protests over gas prices morphed into a protest against the government, and Supreme Leader Ayatollah Ali Khamenei ordered government officials to do whatever it took to stop the protests. Reuters said about 1,500 people were killed through reports from Iranian interior ministry officials, but international human rights groups and the United States reported smaller numbers.
Mohammad said the world didn't notice at the time. This protest, three years later, is one of 150 protests around the world to remember these people and demand change.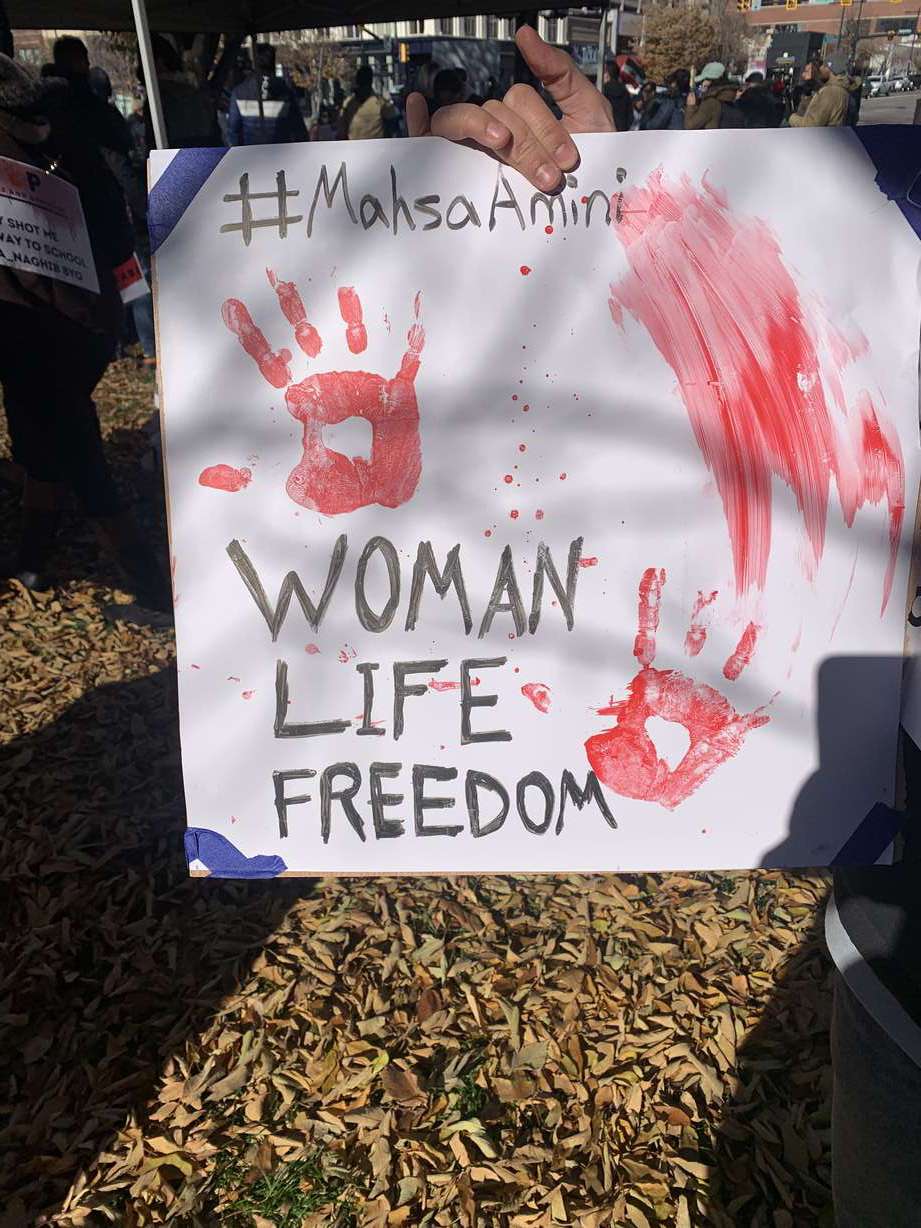 For him, the internet shutdown made applying for college in the United States much harder. He was a student at the University of Tehran in Iran and was applying for graduate programs in the United States, which required the internet to send applications and take exams.
Mohammad said he remembers one protest in particular at the University of Tehran. He was there and watched as police came to shut down the protest, people were arrested and killed.
"I completely feel what is happening now, and this time is more severe in comparison," Mohammad said. "This one is really revolutionary."
Saeed, an organizer of the protest who helps run Free Iran SLC also asked that his last name be withheld. He said his mother still lives in Iran and he wants to keep her safe and be able to visit her in the future.
Although Saeed said these protests led by Free Iran SLC have been happening almost every Saturday for the last few months, in addition to events at the University of Utah, Saturday's event was unique because it coincided with a larger worldwide protest in over 150 cities in memory of Bloody November.
But what motivates his actions is the people that are being killed now.
"It's just non-stop murdering and killing, and we just, we just need to put an end to it. We just need to stop it. We just need to do whatever we can to stop it," Saeed said.
He said Iranians in Utah are trying to do whatever they can to help, and they are also raising money for people in Iran — families of thousands of people arrested for protesting and those who are striking and not going to work. He said getting money to them is complicated and risky, but they are doing their best.
Saeed said there is a large Iranian population in Utah, including over 200 students at the University of Utah who want to participate in the Iranian revolution and "be the Iranian people's voice."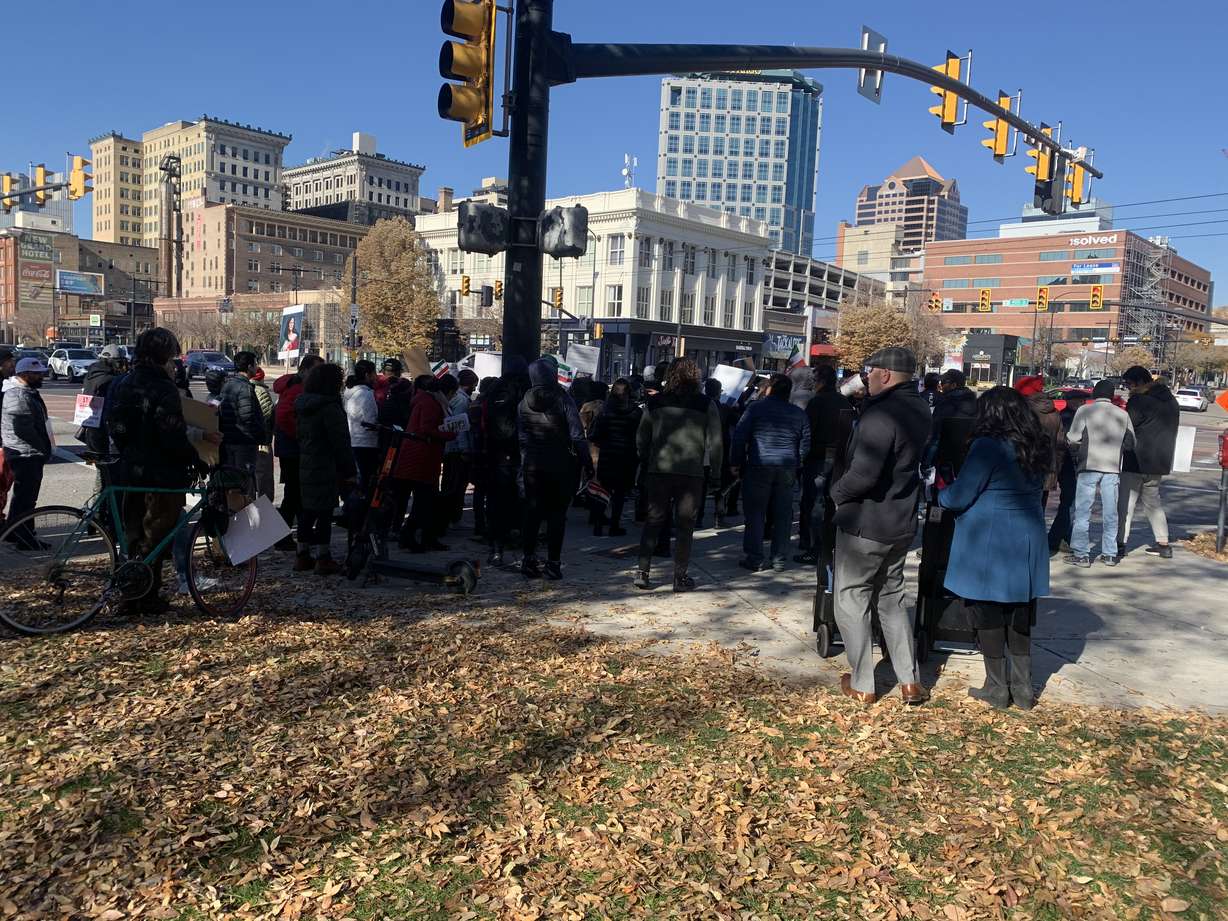 Through protests in Utah, Saeed said they are hoping to raise awareness and put pressure on politicians to take action to protect human rights in Iran and not support the Iranian regime. He said even one small action can make a difference.
Some protestors wore sheets with red handprints or had a red handprint on their signs. Saeed said these represent people who have died, including children.
"The Iranian regime is killing its own people. It's killing its own people, so that's why ... we cannot stand it," Saeed said.
About two weeks ago, 227 members of Iran's 290 parliament members signed a letter asking the judiciary to give harsh sentences for arrested protesters, which could be thousands of people although the exact number is not clear.
On Nov. 11, United Nations experts urged Iranian authorities to not give charges punishable by death for participation in peaceful demonstrations. A press release said they fear women and girls who have been at the forefront of protests will be targeted.
"We urge Iranian authorities to stop using the death penalty as a tool to squash protests and reiterate our call to immediately release all protesters who have been arbitrarily deprived of their liberty for the sole reason of exercising their legitimate rights to freedom of opinion and expression, association and peaceful assembly and for their actions to promote and protect human rights and fundamental freedoms through peaceful means," the experts said.
The U.N. said thousands of peaceful protestors have been arrested since Sept. 16, after the death of Mahsa Amini, who was arrested for allegedly wearing her headscarf too loosely and later died in police custody.
Mohammad said Amini is from a Kurdish area in western Iran; Mohammad is from a similar area and is also Kurdish and was really impacted by her story.
"For more than a week, I couldn't do anything," he said.
He said in the area many people have stopped working and are out on the streets chanting "Jin, Jiyan, Azadi," Kurdish for women, life, freedom. He said the chant began in Kurdish, and is spreading through the world.
×
Photos
Related stories
Most recent Salt Lake County stories