Estimated read time: 5-6 minutes
SALT LAKE CITY — Tavion Thomas is both the hero and villain to his own football journey.
A couple weeks ago, he jogged onto the field for the first time in weeks. In an instant, as fans recognized No. 9, he was enveloped by a thunderous crowd at Rice-Eccles Stadium excited to see their star running back on the field.
Thomas hadn't been out for an injury; it was something more personal, and of which was relevant only to those within the Utah football program.
There were mistakes made and some accountability needed, according to Utah head coach Kyle Whittingham, but there was also a grieving player that lost an aunt that helped raise him. It all lead to a season reset of sorts and a moment where Thomas had to make a choice: stay with football or find another path.
Thomas was not with the team when it traveled to Pullman, Washington, after an up-and-down couple of weeks with limited carries on the field. There was also a time when he left the field without celebrating with his team after a win and appeared on the TV broadcast to be frustrated by his limited role.
Whittingham chose to keep the issues internal as Thomas worked through it all, and said he was working through some things. But Utah never gave up on its starting running back who rushed for 21 touchdowns last season — an Utah all-time record for a season.
But for Thomas to see the field, it was up to him, and he needed to work his way back.
Thomas said he returned home to Ohio when Utah played Washington State; it served as a reset and gave him the perspective he needed.
"I was handling other things, like talking to my kids, talking to my family to get my mental and stuff right, talking to other people to like help better my mindset to keep me refocus," he said. "I took a trip back to my hometown city, and that just gave me another visual like, 'Nah, you don't want to go back to this, so handle your business, get right; you have people counting on you.'
"That made me realize, especially when I came back and seeing how everybody was, like, it was really bigger than me. I just wanted to — I just had to take the little setbacks and realize what was in front of me. That just helped me get back right."
It wasn't as easy as simply saying he was ready, though. There was still work needed to be done to get back on the playing field — an accountability to the program, to his teammates and to the coaches.
As part of that, Thomas suggested he could play special teams — he wanted to be back on the field, and it was the first step to show he could return full time, even if it meant no time as a running back. And early on, it was just special teams.
Additionally, he met with Dr. Jonathan Ravarino, the athletic department's director of psychology and wellness, among other people, to help him get right.
"Can't put it on one person, there was a couple people," Thomas said. "I've been talking to Jonathan, our sports psychologist. I've been talking to him and just basically, I've really just been reaching out and trying to do stuff on my own so I can get better. I've be thinking about a lot, just want to get my thoughts and stuff out, so I feel like that's been helping me get more comfortable and stuff like that with my feelings — expressing myself."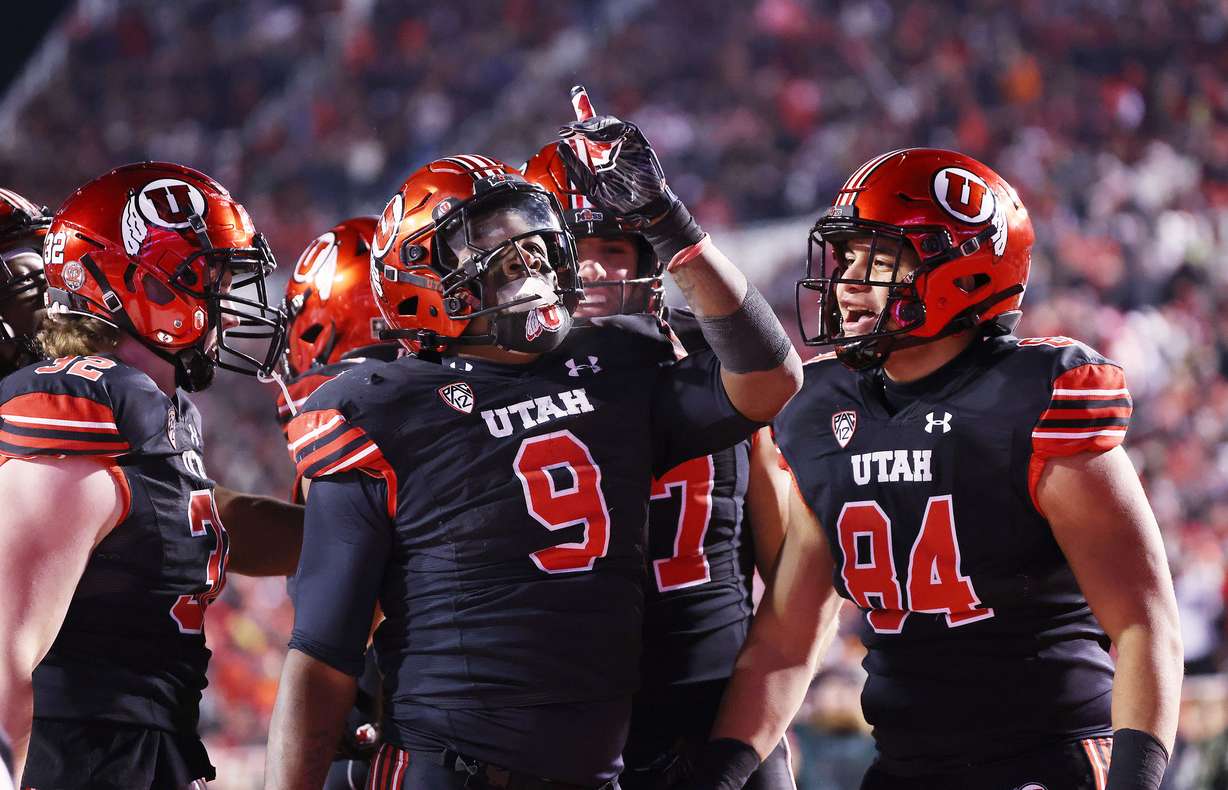 Against Arizona, Thomas played special teams reps and even recorded a tackle. But when Utah's running back depth started to take a hit when Ja'Quinden Jackson suffered an injury in the second half, and freshman Jaylon Glover checked out of the game with an injury, too, Whittingham called Thomas' number.
He trotted onto the field and the crowd erupted.
Thomas finished with only 38 rushing yards on eight carries, but it was a start. On Saturday against Stanford, he returned to his role as the team's starting running back — again to thunderous cheers — and to a dominant run game against an outmatched Cardinal team.
He rushed for 180 yards and two touchdowns on 22 carries — an impressive 8.2 yards per carry. It was more yards than Stanford had the entire game.
"Tavion Thomas had a big game," Whittingham said. "It was great to see him in his last game here at Rice-Eccles get back to his old self, and that was something that — really proud of him and glad that he's weathered the storm, I guess you could say."
For Thomas, it wasn't about the number of carries or how many yards he churned out against the Cardinal, it was about being back on the field to help his team compete for another Pac-12 championship.
"I was just so happy to be out there with my teammates, my boys came to the game, and all the seniors we all wanted to be out there and perform for each other, play hard for each other," he said. "That's all I was really worried about. I wasn't worried about all the carriers or anything. I was worried about finishing this thing — playing with these guys."
The return doesn't stop there for Thomas, though; he still has to continue to do the right things and maintain that accountability. But his head coach and the players around him have been supportive enough to help him see through it as the team continues its pursuit of a conference title.
"We'll see how the week goes and what the plan is, but I can't see him not being a big part of what we do," Whittingham said. "He came off one of his best performances and was very productive for us, to say the least, that's an understatement. Hopefully we get more of the same this week."
"It's been challenging, but you can't run from it, you've got to attack it," Thomas said. "And I've got great guys over here — great support system here — and they got me back right slowly but surely. But now, I'm just focused and I'm ready just to get back with these guys and finish this whole season out and try to repeat back-to--back for a championship."
×
Most recent Utah Utes stories