Estimated read time: 3-4 minutes
This archived news story is available only for your personal, non-commercial use. Information in the story may be outdated or superseded by additional information. Reading or replaying the story in its archived form does not constitute a republication of the story.
By Randall JeppesenDebbie Thomas arrived home one day and found her husband dead.
"It's something that somebody never wants to have to do is call my kids and say their dad is gone," she says.
He started taking prescription painkillers following back surgery, but he always felt he needed more pain pills. He found he could get them through a doctor by visiting a pain clinic, or sometimes through friends.
"He would hobble around so he would get somebody to feel sorry for him. If they had it (prescription pain medication) in their cabinet (they) would give it to him," Thomas explains.
She says he always denied having a problem until shortly before he died.
"The medical examiner that came to our house said his death sentence was signed either on them or trying to get off of them, he was on so many."
The Thomas family story isn't unique. The Utah Department of Health says prescription medication overdose deaths are the No. 1 cause of injury death, killing more people than car crashes last year. [Click to read more prescription medication facts]
"We statistically get about three patients who are addicted to drugs and seeking drugs in the emergency department every day," says University of Utah emergency room Dr. Peter Taillac. He says doctors are in a tough spot. They know some people go from doctor to doctor seeking pain medication, but some physicians see hundreds of patients a day.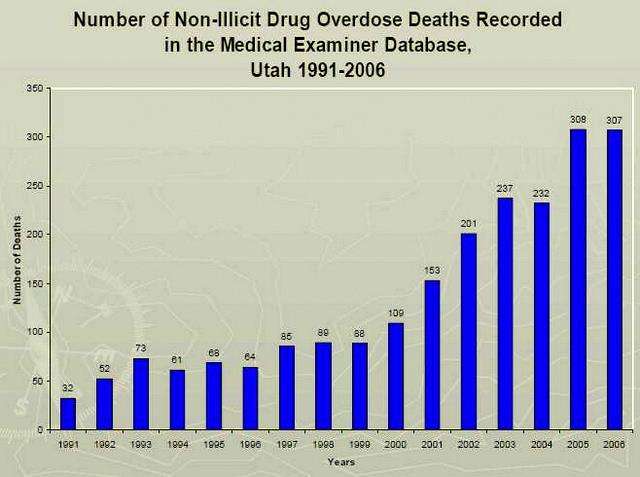 The time restraints keep them from trying to investigate every patient to determine whether they really need the medicine or not.
"My preference is to treat patients for pain and not really worry that much if they might be drug seekers," Taillac says. "Because I don't want to withhold appropriate treatment and comfort measures from patients that really need them."
Sandra Kresser's family learned there can be deadly consequences when combining prescription drugs. [Click to read Sandra Kresser's story in her own words]
"My son Josh passed away from a lethal combination of Soma, Ativan and Lortabs," Kresser says. "None of the levels were toxic, but it was the combination that killed my son."
Her son received pain pills after a work injury. Four days after getting the pills he overdosed for the first time and then was in and out of treatment centers as he struggled with the addiction for two and a half years.
"Parents have got to, they've got to take it seriously and they've got to talk to their kids," Kresser pleads, "because they are not just pain pills. They are narcotics."
The state has a database designed to track who's getting prescription pain pills. Both doctors and pharmacists have told us the system is a step in the right direction, but there are some limitations. As it stands now it takes around a month for information to be entered and become available. Dr. Taillac says what would be helpful is a system that relays information in "real time." That way they could check when a patient comes in to make sure they haven't been visiting other emergency rooms around the state.
The health department announced in October it will do an in-depth investigation over the next year on every drug related death as they seek to come up with better ways to prevent prescription drug abuse.
E-mail: rjeppesen@ksl.com
×
Related links
Most recent Utah stories